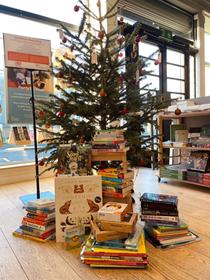 At Portobello Bookshop
Independent booksellers in the U.K. reported "healthy if measured trading over the 2022 festive period, with the majority of respondents to the Bookseller's annual survey (39%) reporting 'average' sales compared to 2021, followed by 29% who described it as 'very good.' " Of the 31 respondents to the survey, five described trading as "excellent" over the period and five as "disappointing" (representing 16%), "suggesting a mixed bag compared to the results of last year's survey, in which 58% of independent booksellers described trading as 'very good' and 15% as 'excellent.' "
Alice Fischer, manager of Portobello Bookshop in Edinburgh, Scotland, said overall title availability was better than last year, "however supply was slower for some suppliers"; while Sarah Shaw of the Book Corner, Saltburn-by-the-Sea, England, noted that split deliveries had been an issue. Marie Mose of the Edinburgh Bookshop experienced out of stock and re-printing delays, but no worse than previous holiday seasons, adding: "Courier unreliability was a new and horrendous problem this year."
Looking ahead to 2023, rising costs are a paramount concern. "Like everyone else, we are worried about the economy and the current cost-of-living crisis, and how they will impact customers' buying habits--though for now, sales haven't slowed down," Fischer said. "We're also keeping a close eye on energy prices, and hoping ongoing supply issues (of finished products but also of primary material) are resolved soon. Though we're lucky to have a very strong customer base and a dedicated community keen to shop local, we're also concerned about the fact that the increasing cost of materials is leading to books being pricier, and how this will impact sales, as customers might turn to discounted titles from other retailers."
Caitlin Lowe, assistant manager of the St. Helens Book Stop, Merseyside, England, worried that the cost of living crisis will cause customers to "rethink buying from us.... We are also concerned about the cost of running our shop owing to increasing energy prices." Staffing levels were also a challenge for a number of respondents, with one saying they may have to resort to reductions if things get worse "because we've already cut costs as much as we can."
Optimism remained in some corners, however. Leanne Fridd of Bookbugs and Dragon Tales in Norwich, England, said: "I'm optimistic about the book industry in 2023, particularly with paperbacks as they represent excellent value for money as people cut back on spending" but that she thinks they will be seeing lower spend per visitor.
---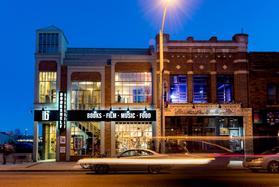 Last Friday, Barb Minett was working at the front desk at the Bookshelf, Guelph, Ont., which she co-founded in 1973, when a man came in. Soon she heard books being dropped on the floor where he had gone. As she told Guelph Today, "So I came around, and there he was, with all the books on the floor, and I said, 'What are you doing?' And he said, 'I'm taking these books because they are racist, and you can't sell any anti-racist books any longer.' "
The section is called "race relations and discrimination" and has been there for years without incident. Minett told a colleague to call the police. In that time, the man put about 20 books into a backpack and started leaving the store. She had a strong reaction and went after the man. "I just couldn't let someone walk out of the store, dismantle a section, threaten us like that, take 20 of our books, just because he thought that we were racist," Minett told Guelph Today.
Outside, helped by another staffer and others from the neighboring restaurant, Minett pulled on the backpack and was able to save the books. The whole time, she said, the man was screaming and repeatedly called her a racist.
Minett told Shelf Awareness that police have not caught the person she called "the white supremacist," adding that she's fine. "I tell Bookshelf staff not to do what I did," she continued. "But I'm fed up, old, and a free agent! I was definitely in the moment!"
---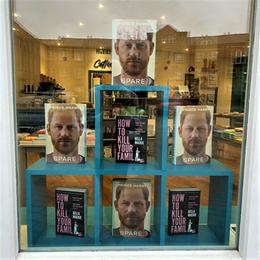 At Bert's Books
Yesterday was Spare Day. Prince Harry's memoir sold 400,000 copies in the U.K. in hardback, e-book and audio formats on its first day of publication, the Bookseller reported. Larry Finlay, managing director of Transworld, said: "We always knew this book would fly but it is exceeding even our most bullish expectations. As far as we know, the only books to have sold more in their first day are those starring the other Harry (Potter)."
"Cheeky bookshop" Bert's Books in Swindon, England, created a window display featuring Spare and the shop's bestselling 2022 title, How to Kill Your Family by Bella Mackie, while Winstone's Hunting Raven Books in Frome had a "love him or loathe him" chalkboard in its display.
Dutch bookseller the American Book Center in Amsterdam had some fun with the new book, pairing it with John Bradshaw's Family Secrets. Spare was also spotted at Dussmann das KulturKaufhaus in Berlin and Buchhandlung Lesezeichen in Germering, Germany, as well as Libreria Ubik, Castelfranco Veneto, Italy; and Australian bookseller Not Just Books in Burnie, Tasmania. --Robert Gray