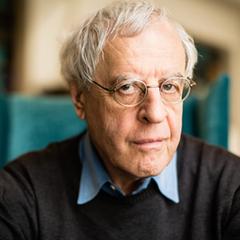 Charles Simic
Charles Simic, "the renowned Serbian-American poet whose work combined a melancholy old-world sensibility with a sensual and witty sense of modern life," died January 10, the New York Times reported. He was 84. Simic won a Pulitzer Prize in 1990 for The World Doesn't End, a book of prose poems. He served as poet laureate of the U.S. from 2007 to 2008. Other honors include a MacArthur Foundation "genius grant" in 1984, a Wallace Stevens Award (2007), Frost Medal (2011), Vilcek Prize in Literature (2011) and Zbigniew Herbert International Literary Award (2014).
Simic moved to the U.S. while in his teens, and for "the rest of his life he would look back on not merely his wartime childhood but on the circus of everyday life in Belgrade. His poems were full of folk tales and pickpockets and old grudges," the Times noted, adding that "he embraced American life. He wrote verse like a man who had escaped a cruel fate and was determined not to waste a moment. His urbane and sardonic poems were increasingly filled with sex and philosophy and blues songs and late-night conversation and time spent at the dinner table."
His first two poems to appear in print were in the Chicago Review in 1959, when he was 21. Beginning in 1961, he spent two years in the Army as a military policeman in Germany and France, finding his voice upon his return. "Before the Army I had become too literary, buttoned down, in tweeds, pipe-smoking, all that," he said. "After the Army I had a much humbler view of myself. I started thinking about a remark of the painter Paul Klee, that if a young man is to accomplish something he has to find something truly his own. Well, I had a kind of minimalist urge, and so I started writing poems about the simplest things. Household objects: a knife, a fork, a spoon, my shoes."
His first book of poems, What the Grass Says, was published in 1967. He was offered an associate professorship by the University of New Hampshire in 1973, and taught there for more than three decades.
Simic published more than 30 poetry collections, including Walking the Black Cat (1996 National Book Award finalist); Selected Poems, 1963–1983 (1986 Pulitzer finalist); Unending Blues (1987 Pulitzer finalist); New and Selected Poems: 1962-2012 (2013); The Lunatic (2015), Scribbled in the Dark (2017); Come closer and listen: new poems (2019); and No Land in Sight (2022). He also published many books as an editor, an essayist and a translator of the work of French, Serbian, Croatian and other poets. His nonfiction titles include Dime-Store Alchemy: The Art of Joseph Cornell (1992).
The New York Review of Books tweeted: "We mourn the death of Charles Simic (1938-2023), who since 1999 wrote 175 essays and poems for The New York Review, on subjects ranging from Saul Steinberg to the Fourth of July to gun violence to Buster Keaton."
Noting another recent literary loss, Simic's longtime friend and editor Daniel Halpern posted on Instagram: "The world is less so without the writers Russell Banks and Charles Simic. They will be missed in so many ways."
Simic's poem "The Wind Has Died":
My little boat,
Take care,
There is no
Land in sight.