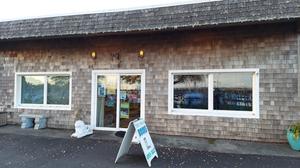 Karla Nelson, founder of Time Enough Books in Ilwaco, Wash., is retiring and selling the bookstore to her niece Kelli Hughes-Ham, the Chinook Observer reported.
The bookstore will remain in the family, with Hughes-Ham as owner and her husband, Bill Ham, who has worked part-time at Time Enough Books for around seven years, managing operations. Nelson plans to travel and spend more time with her husband, Peter, but will stay involved with the store, occasionally covering for Hughes-Ham when needed.
Hughes-Ham told the Observer that "this has been in the works for a few years," and she's "glad we are keeping it in the family. So many milestones were here. The children grew up here--this is like an extension of our home and it will continue."
Nelson opened the bookstore in 2000, in a space on Ilwaco's waterfront. The shop sells new and used books along with half-priced paperbacks. There are titles for all ages and across all genres, along with a selection of sidelines like jewelry, puzzles, games and cards."
Throughout her career as a bookseller, Nelson was active in the Pacific Northwest Booksellers Association and for two years served as its president. She was also on the board of the Columbia Pacific Heritage Museum.
Hughes-Ham has a background in education and ran for state representative last fall, and her husband, Bill Ham, has a background in the theater community. They plan to put their mark on the bookstore without trying to fix something that isn't broken and that has "survived and thrived for 23 years."
"We are an independent bookstore and I believe people are still very much interested in reading and literature," he told the Observer. "There is a lot being said about how the Internet, and before that TV, have squashed general literacy, but I don't think that's true. We get people from all walks of life."