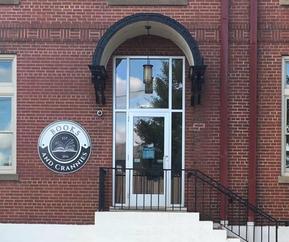 Books and Crannies, Martinsville, Va., will close its physical bookstore on January 21 and move to online sales only, the Bulletin reported. Owner DeShanta Hairston will remain in the community as the executive director of Fayette Area Historical Initiative, a role she began in October.
Hairston, who opened Books & Crannies in 2016, said, "I've always been an avid reader and we just hadn't had a bookstore here for quite some time. I really missed having one and that's really what sparked the idea." The bricks-and-mortar location helped her make a greater connection with the community, allowing for more outreach through event hosting, author signings, book clubs and more.
"When you have just an online platform, it's a little harder," she added. "But I do feel like Covid has kind of shifted a lot as well where people are more comfortable being at home and joining Zoom or a live feed.... I think it's different but it's still possible to have the same effect just in a different way."
Hairston recalled that her online platform "really took off during the summer of 2020 during Covid," when she posted on the store's Twitter account: "Can you imagine, I refrained from putting black owned in my bio for years in fear of losing out on potential white customers? Well I am indeed black and this is my store and I will be screaming it from the mountain tops moving forward."
This prompted substantial growth in online sales "and the store saw a shift where online business outside of Martinsville began to boom even more so than local purchases. Her store's Twitter account now has over 30,000 followers," the Bulletin noted.
Moving business fully online was not an easy decision for her to make, but she said "the current state of the economy and just the inflation" made the decision necessary: "It was definitely a hard decision but as a mother of two... I just wanted to create more of a balance in my life without sacrificing the work that I've put into this store and I think I've done a good job of building the online platform."
In a Twitter thread announcing the closure, Hairston wrote: "Over the last few months with the passing of my grandma, life has shown me not to take on more than I can bear. I've learned to put my mental health above all. I've learned that nothing in this world matters more to me than the stability of my children. Thanks to everyone who kept our doors open by buying and ordering books directly from us in-person. And thank you for understanding my need to put my family first. This is not a goodbye, but a new version of hello!"