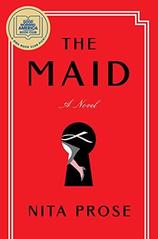 Alex Kanenwisher, book buyer at Costco, has selected The Maid: A Novel by Nita Prose (Ballantine, $18, 9780593356173) as the pick for January. In Costco Connection, which goes to many of the warehouse club's members, Kanenwisher writes:

"The Maid is Nita Prose's debut novel. It tells the story of Molly, an eccentric maid who sets out to uncover who killed one of the guests at the hotel where she works. Molly, who has been alone since her gran died and who struggles with social skills, is used to being overlooked. It's that quality that gives her an advantage in solving the mystery.

"Molly is a delightful character, and this novel is full of heart while also serving as a reminder that we're never as alone as we think we are."