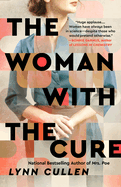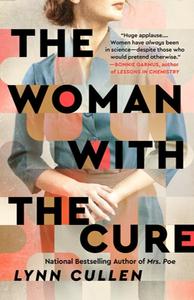 Lynn Cullen's seventh novel, The Woman with the Cure, opens with a startlingly familiar setting: empty playgrounds in summertime as parents fear their children will be infected by a deadly disease. But the time period is the 1940s, and the disease is polio, a crippling, often fatal diagnosis affecting thousands of children--with no cure or even a vaccine in sight. Cullen (The Sisters of Summit Avenue; Twain's End; Mrs. Poe) constructs a thrilling narrative focused on the work of Dr. Dorothy Horstmann, whose passion for defeating the polio virus would require grave personal sacrifices.
The too-tall daughter of working-class immigrants, Horstmann fights hard for her right to attend medical school. Cullen gives readers a glimpse into Horstmann's background and her complicated but loving relationship with her parents. Most of the novel, however, centers on Horstmann's quest to find a cure for polio and her insistence, despite early evidence to the contrary, that the secret to the virus's transmission lies in its presence in the blood. Mixing medical details with the often-fraught politics of securing funding for research and equipment, Cullen vividly portrays both the dangers of polio (to its patients and even to researchers) and the urgency to find--and claim credit for--a cure. Horstmann, less interested in fame or accolades than her (mostly male) colleagues in the field, learns to work with all of them, including Albert Sabin and Jonas Salk, as they argue over methods, medicines and even research monkeys.
Cullen frames her narrative with brief interludes from a variety of other women: a mother, a scientist, a wife and nurse, all affected by the polio pandemic. Some have direct connections to Horstmann and some do not, but their perspectives help drive home the far-reaching effects of the disease for 21st-century readers with little direct experience of polio. The novel explores the tricky social dynamics between the leading scientists in polio research as they jockey for funding (including from the nascent March of Dimes) and try to balance personal ethics with professional ambition. Although Horstmann's male colleagues often trade time with their families for time in the lab, she and her few female compatriots struggle with the effects of making similar decisions under different expectations. Complex Cold War politics also come into play, as the U.S. and the Soviet Union each pursue a vaccine.
Fast-paced, illuminating and sometimes heartbreaking, The Woman with the Cure is a fitting tribute to an unsung heroine of modern medicine. --Katie Noah Gibson, blogger at Cakes, Tea and Dreams
Shelf Talker: Dr. Dorothy Horstmann and her colleagues race to find a cure for polio in Lynn Cullen's seventh novel.