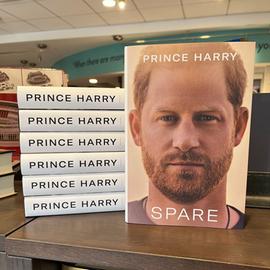 At Gramercy Books, Bexley, Ohio
On its first day of publication, Tuesday, January 10, Spare, the memoir by Prince Harry, Duke of Sussex, sold more than 1,430,000 copies in all formats and editions in the U.S., U.K., and Canada, Penguin Random House has announced. This is the largest first-day sales for any nonfiction book ever published by PRH. The U.S. printing was two million copies; PRH has already gone back to press on the title.
Spare was released in print and digital formats in the U.S. by Random House, in Canada by Random House Canada and in the U.K. by Transworld. An unabridged audio edition of the book, read by the author, was published by Penguin Random House Audio. Altogether Spare has been published in 16 languages.
Random House Group president and publisher Gina Centrello commented: "While many books by public figures can be fairly categorized as 'celebrity memoir,' Spare is not that. Vulnerable and heartfelt, brave and intimate, Spare is the story of someone we may have thought we already knew, but now we can truly come to understand Prince Harry through his own words. Looking at these extraordinary first day sales, readers clearly agree, Spare is a book that demands to be read, and it is a book we are proud to publish."
Barnes & Noble was one of many booksellers benefiting from Spare sales, saying on Tuesday that Spare was "certain to set record-breaking day-one sales" at the company. B&N stores across the country "have experienced exceptional numbers of customers today," B&N continued. "Most booksellers report customer levels comparable to day one of Michelle Obama's Becoming, the publishing sensation of 2018."
B&N noted that Prince Harry's writing partner is "the exceptional J.R. Moehringer, well known for partnering also with Andre Agassi on his autobiography, Open, and with Phil Knight on his memoir, Shoe Dog. Both of these searing and fascinating autobiographies rank among the bestselling memoirs of all time."
B&N director of books Shannon DeVito commented: "We are experiencing the most extraordinary first-day sales, buoyed by the explosive headlines and litany of press. The leaking of extracts has only heightened the frenzy and is drawing customers into our bookstores in amazing numbers. The appeal of Spare is vast, piquing the interest of both fans and followers of the Sussexes, as well as their critics, and anyone interested in the British Royal Family."