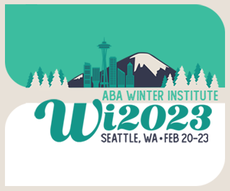 The American Booksellers Association's 18th annual Winter Institute, which will be held February 20-23 in Seattle, Wash., is featuring five keynote presentations throughout the event:
Tuesday Breakfast Keynote: "Chokepoints, Antitrust, Amazon, and You: How Corporate Monopolies are Squeezing Bookstores, and How You Can Fight Back." Author Cory Doctorow, in conversation with Danny Caine, co-owner of the Raven Book Store, Lawrence, Kan., and Stacy Mitchell, co-executive director of the Institute for Local Self-Reliance, about the risks posed by capitalist chokepoints and gaining strategies to fight back.
Tuesday Lunch Keynote: "New Voices in Genre." Authors Nana Kwame Adjei-Brenyah, Chloe Gong, Taj McCoy and Andrew Joseph White in a panel conversation keynote with Calvin Crosby, co-owner of the King's English Bookshop, Salt Lake City, Utah, about subverting different genre tropes to imagine worlds past, present, and future.
Wednesday Breakfast Keynote: "Closing the Gap Between Good Intentions and Real Change." Author Michelle MiJung Kim, in conversation with Hannah Oliver Depp, owner of Loyalty Bookstores, Washington, D.C., and Silver Spring, Md., about creating a more equitable world and going beyond performative allyship.
Thursday Afternoon Keynote: "Book Banning: Stores, Authors and Communities: What Can We Do?" Author Maia Kobabe; Kendrick Washington, director of the policy advocacy group at the ACLU of Washington; Heather Hall, owner of Green Feather Book Company; and Laura DeLaney, co-owner of Rediscovered Books and Once and Future Books, Boise and Caldwell, Idaho, in a keynote conversation moderated by Ray Daniels, chief communications officer of the ABA, about book bannings, the rights of readers, and the importance of representation in books.
Thursday Closing Keynote: "The Knowing: The Power of Independent Artists and Independent Retail Spaces." Singer-songwriter Ani DiFranco in conversation with Robert Sindelar, managing partner of Third Place Books, Seattle, Wash., and Carrie Colliton, co-founder of Record Store Day and director of marketing of the Department of Record Stores, moderated by Courtney Wallace, marketing manager and Independent Bookstore Day program director for the ABA, about the impact of independent artists and industries on culture and community.