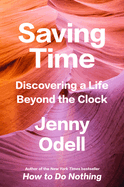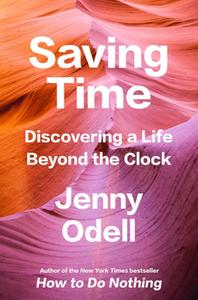 If readers looking for productivity hacks pick up Jenny Odell's Saving Time: Discovering a Life Beyond the Clock, they will have chosen the wrong book. Instead, in the spirit of her How to Do Nothing: Resisting the Attention Economy, Odell delivers a penetrating, provocative investigation into the subject of time--how to understand and live with it--on both an individual and societal level. Odell, a multidisciplinary artist who formerly taught digital art at Stanford University, offers readers a set of "conceptual tools for thinking about what 'your time' has to do with the time you live in." In a work that's reminiscent of the writing of Rebecca Solnit, Odell embarks on a wide-ranging survey that encompasses economics, politics, sociology and science, among other disciplines. Odell, above all, decries the "cruel dynamic related to the bootstrapper ethos of individual time management" with its exhortations that "time is money"--or what she calls the "myth of equal hours" that creates a sense of time impoverishment and guilt for individuals trapped in a system where time truly is not theirs to control.
The breadth of Odell's concerns is impressive. Writing in a style that's both erudite and often deeply personal, she explores obvious subjects that include the roots of modern time management, which are associated with the work of mechanical engineer Frederick Winslow Taylor in the early 20th century, and more subtle ones. Among the latter are the interplay between time and climate change (forest management and California wildfires are particular interests); the intersection of time and leisure, especially as manifested on social media sites like Instagram; and how women's time is devalued both in and out of the workplace.
Interspersed with these deeper reflections are brief but beautiful interludes, enhanced by evocative black-and-white photographs, that recount Odell's encounters in the natural world (she's an avid birdwatcher) in and around her hometown of Oakland, Calif. Odell concludes that "there has to be a different way of thinking about time than the one in which we're simply strapped in all the way to the end." For her, that means "grasping and playing a different game altogether, one where 'winning' means something that previously may have been impossible to articulate." The rules of that game have yet to be established, but anyone who wants to think deeply about what some of them might be can fruitfully engage in that exercise here. --Harvey Freedenberg, freelance reviewer
Shelf Talker: In a multifaceted survey, Jenny Odell considers time, a complex subject that is a universal aspect of the human condition.