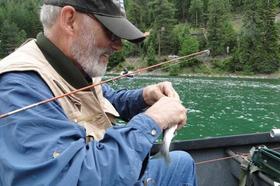 Jack Shoemaker
Jack Shoemaker, founding editor of Counterpoint Press and a co-founder of North Point Press, is retiring, effective today. He will continue to work on selected projects as Counterpoint's editor-at-large.
Counterpoint publisher Alyson Forbes said, "Jack Shoemaker is a legend who has brought some of our most essential American voices into print. His influence on both California-based publishing and the publishing industry as a whole is incalculable. While we will certainly miss his day-to-day presence, we are excited to continue our relationship with Jack and his iconic authors in a new capacity."
Shoemaker began his career as a bookseller in 1965, managing the Unicorn Bookshop, Serendipity Books and Sand Dollar. In 1979, he co-founded North Point Press, and in 1991, he joined Pantheon, where he served as the West Coast editor of the Knopf Publishing Group. In 1994, he co-founded Counterpoint Press.
He has served as chairman of the National Endowment of the Arts, co-founded The Art of the Wild, and was honored with the Jack D. Rittenhouse Award for lifetime achievement and contributions to the western book community by PubWest.
Shoemaker has published a striking group of writers, including Wendell Berry, Gary Snyder, MFK Fisher, Guy Davenport, James Salter, Ernest Gaines, Gina Berriault, Beryl Markham, Barry Lopez, Anne Lamott, Jane Vandenburgh, Margaret Wilkerson Sexton, Robert Hass, Bill Porter and Banana Yoshimoto.
Wendell Berry commented: "The best thing that's ever happened to me as a writer was my association with Jack."