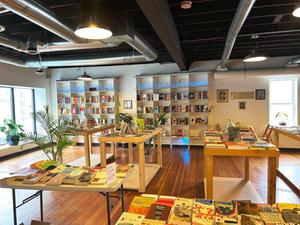 Akimbo Books before the fire.
Rachel Crawford, owner of Akimbo Bookshop in Rochester, N.Y., has launched a GoFundMe campaign to help rebuild and reopen the store after a devastating fire that started in a neighboring business, Rochester First reported.
The fire, which broke out early in the morning on January 4, damaged the bookstore so severely that "everything in the shop has been deemed unsalvageable," the campaign page notes, including "all of the books, the furniture, appliances and other equipment." Insurance, Crawford added, won't cover "even a small percentage of the damage."
Crawford founded Akimbo Bookshop as an online and pop-up store in 2020, and she opened its bricks-and-mortar location only eight months ago. The roughly 700-square-foot shop focused on small presses, diverse voices and literature in translation, and since opening has hosted about 50 community events including author readings, lectures, artist q&as, mutual aid events, yoga classes and more. With the help of the Rochester community, she hopes to open Akimbo Bookshop "twice in one year."
"We did a lot here," Crawford told Rochester First. "We did food drives. We did back to school drives for kids in our immediate neighborhood. We want to keep that feeling. We want to keep the arts alive. We want to keep the books alive. And, I'm on it, if we can get the funding."
The campaign has already raised more than $22,000 out of a $32,000 goal.