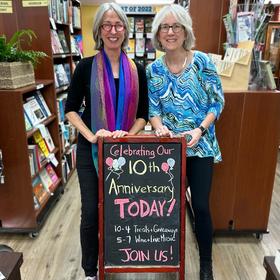 Cathy Graham and Serena Wyckoff
Congratulations to Copperfish Books, Punta Gorda, Fla., which celebrated its 10th anniversary with a party for loyal fans and supporters last Saturday. The store had actually turned 10 on October 1, 2022, but the original festivities had to be canceled due to Hurricane Ian.
"Not that we wanted to be hit with a hurricane, but the delay actually made it so our seasonal customers could be here to join us," said co-owner Cathy Graham. "A small silver lining!"
The evening open house featured music by jazz keyboardist and board member of the Charlotte County Jazz Society Shawn Marren; wine poured by Punta Gorda Chocolate & Wine; and goody bags for guests. Around the store, boards displayed news clippings and photos of events from the past 10 years, and a video presentation of more photos played for all to enjoy the memories.
"We feel so honored to be a valued part of this community, and for a decade now!" wrote co-owner Serena Wyckoff on the store website. "Many thanks to all of you who have shopped and supported our store over the years, to the wonderful authors who have visited us for events, and to our dedicated and talented booksellers. What an amazing 10 years it's been!"