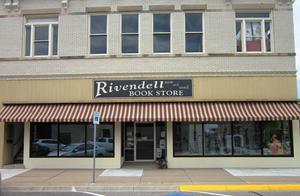 Marilyn Thurlow, co-founder and now-former owner of Rivendell Bookstore, Abilene, Kan., transferred ownership of the shop to longtime manager Lisa Smegal, effective January 1. The Reflector Chronicle reported that the transfer "has been in the works since July 2022, but has been the plan for both Thurlow and Smegal for much longer."
"In a way, it's always been the plan for the last seven years that I would take over," Smegal said, adding that customers will not notice many changes in their experience, but over time she plans to implement changes she feels will be positive for the bookstore, like increasing hours, and making space to sell vintage/antique books and the work of local artists and creators. She plans to start an Etsy shop selling crafts made out of books, which will also be available in-store. She also wants to bring back online ordering, increase the number of in-store events, and would like to found a nonprofit branch of the bookstore to help with literacy and promote books in the community.
"That's kind of my goal is to be able to use the bookstore to do more in the community and for the community," Smegal said. "You don't get into selling books to become rich, you know? I'm not really a money-driven person anyway, so it's not like I want to make a whole bunch of money off of it. I really would like to have the bookstore doing better so I can do more for the community and donate more to other community organizations and make sure that kids have books that want books and things like that....
"I'm kind of looking forward to that point where it does sink in that this is mine and I can do what I want and make things happen. I'm looking forward to being able to try and implement some ideas that I've had for a while. But I also have to be really cautious and make sure that I don't try and do too much at once and then end up overloading myself and messing it all up."
Smegal's experience as a bookseller will be an advantage: "I know what I'm doing when it comes to selling books.... I don't really have that concern of 'am I going to be able to do this?' I know I can do it. It's more a matter of, am I going to be able to do this with the economy going the way it's going? So that's my biggest worry."
She added: "If it wasn't for the support of the community, I would not have been able to make this happen.... I've never really lived anyplace before that I felt like I was part of a community. Here, I definitely feel like I'm part of a community. Being at the bookstore has helped me meet people and make connections and become friends with people. And without the community support, I would not be taking over the store and be able to do what I've been doing."