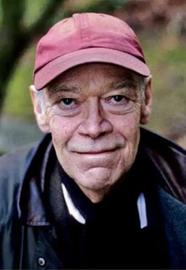 Jonathan Raban
Jonathan Raban, the British travel writer, critic and novelist "known for his candid accounts of traveling the world in books such as Passage to Juneau and Coasting," died January 17, the Guardian reported. He was 80. Raban attended the University of Hull and went into academia at the University of East Anglia, but "he spent his vacations writing fiction and journalism, and eventually moved to London to become a freelance writer in 1969, lodging with the U.S. poet Robert Lowell. The two became friends, and Raban was inspired by Lowell's ability for 'turning the turmoil of his life into art.' "
Raban traveled through the Middle East in Arabia: Through the Looking Glass (1979); down the Mississippi River in Old Glory (1981); around the British Isles by boat in Coasting (1986); and across the Atlantic on a container ship in Hunting Mister Heartbreak (1991). He subsequently "unpicked the history of south-eastern Montana" in Bad Land: An American Romance (1996), the Guardian noted, adding that his 1999 book, Passage to Juneau, "began as a tale of navigating Alaska's Inside Passage, until his trip was interrupted by the death of his father and the end of his marriage, transforming the book into an exploration of mortality and fatherhood." He also wrote three novels: Foreign Land (1985), Waxwings (2003) and Surveillance (2006).
Noting that some of his critics took issue with his vivid and often harsh descriptions of the people he encountered, befriended and sometimes romanced on his trips, the Guardian wrote that Raban once responded to a particularly offended critic: "How are you going to report life if you report it as a series of wonderful people? Some people are repulsive. Some are lovable."
Clare Alexander, his literary agent, recalled that after he suffered a stroke in 2011, a doctor had said: "You're the one who used to be a writer." Raban replied: "I very much hope that I'm still a writer." Added Alexander: "And so he was to the very end, completing his memoir shortly before his health began to fail." Father and Son is due to be published this autumn.
The day before he died, Raban dictated an e-mail to his daughter Julia, to be sent to all his friends. "Even though he knew he was facing the end, he bid us all farewell in perfectly judged sentences and paragraphs," Alexander said.
In a tribute, author Phillip Marsden described Raban as "one of a generation of writers who helped to drag travel writing away from its hotel-reviewing, holiday-brochure corridor and into the halls of literature. Colin Thubron, Paul Theroux, Redmond O'Hanlon and Bruce Chatwin were among those (almost all men) who in the late 1970s and early 1980s resurrected the journey as one of the great narrative structures. They produced books that celebrate big ideas, remote places and the endless and ageless diversity of our planet. In Raban's case, he did it with a view of the world that was both darkly comic and sardonic, delivered in prose that can pierce your heart with its accuracy."
Picador publisher Mary Mount said: "Jonathan Raban was a beloved Picador author and we are immensely proud to have been his publishers over so many years and so many wonderful books. He was that rare sort of writer who could write about himself and about the world he travelled through with equal precision, honesty, humor and great beauty. His death is a great loss for us all."