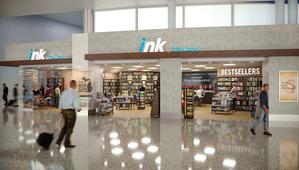 The Gerald R. Ford International Airport, in partnership with Hudson, has started construction on Ink by Hudson, a wine bar and bookstore that will be located after the security screening checkpoint just before Concourse B. It is set to open in the spring.
In addition to books, travel essentials and gifts, the store will feature a self-serve wine bar in partnership with Michigan Wine Collaborative, a nonprofit organization that aims to enhance the sustainability and profitability of the state's wine industry by supporting wineries, growers and other businesses and individuals connected to the industry.
"Ink by Hudson will be a unique spot for passengers to sit back and enjoy their travel experience," said Tory Richardson, president and CEO for the Gerald R. Ford International Airport Authority. "As our passenger numbers continue to grow, we are excited to welcome them with a book and a glass of wine, along with a distinctive assortment of gifts and travel necessities."
Hudson Group operates more than 1,000 stores in airports, commuter hubs, landmarks and tourist locations across North America.