As an audiobook reader, I've been hearing voices tell me stories for a long time. These voices belong to real people, sometimes even the authors themselves, though this isn't always the best choice. But when the voice of an actor (Juliet Stevenson narrating George Eliot's Middlemarch) or author (Louise Erdrich reading The Sentence) does sync perfectly with a book, the listening experience can be exquisite.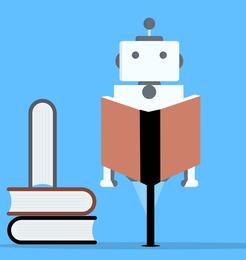 Now there's a disturbance in the audiobook force field. Earlier this month, Apple "quietly launched a catalogue of books narrated by artificial intelligence in a move that may mark the beginning of the end for human narrators. The strategy marks an attempt to upend the lucrative and fast-growing audiobook market," the Guardian reported.
Before the Apple AI launch, Canadian literary agent Carly Watters told the Guardian she did not really see the value from a literary or consumer perspective: "Companies see the audiobooks market and that there's money to be made. They want to make content. But that's all it is. It's not what customers want to listen to. There's so much value in the narration and the storytelling."
This is probably not the right moment to mention the long list of bad (or at least ill-cast) narrators who have in the past assaulted my tender ears before I bailed on certain titles (unnamed here to protect their "innocence"). I will say, however, that in many of those cases, an AI-generated voice might actually have been preferable.
And, of course, certain books shouldn't ever become audiobooks, AI or no AI. "Some books rely on the page in ways that make sense only when you read them yourself. Cookbooks, for instance--or War and Peace. Most print books are made into audiobooks. But should they be?" Katherine A. Powers asked yesterday in the Washington Post.
When the match of the right book and narrator(s) happens, though, it is magic, and that brings us back to the importance of voice.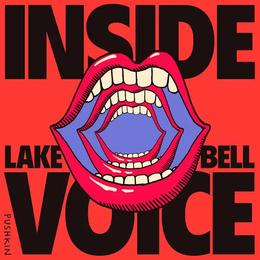 "Voice is both story and backstory. Voice is the entry point for narrative," actress, screenwriter and director Lake Bell says in her recent, award-winning audiobook, Inside Voice: My Obsession with How We Sound. She also observes: "Our voice is our most outward facing trait. It's the muscle we unconsciously flex every hour of the day. It can cloak our truths, put off airs, provide a calling card or a ticket to a coveted community. But ultimately, the voice is imbued with cues and characteristics that we cannot hide."
Bell, who is obsessed with voice, also wrote, directed and starred in the excellent 2013 film In a World..., which "contemplates both the power of the male voice and the empowering of its female counterpart," as critic Odie Henderson has written, noting that Bell "uses the world of voiceover to slyly explore how society has shaped our ears to accept stereotypical gender roles. She accomplishes this not by preaching, but by observing the personal relationships she has created for her actors. This is not just the story of a daughter challenging her father on the voiceover turf that made him a legend, it's also about how the use of conversation and voice craft our identities. The speaker has the floor, and whether you listen has a lot to do with what you are conditioned to hear."
Hearing voices everywhere: Consider the variations on authors' written voices that can be heard in the narrator credits for Libro.fm's Top 10 Bestselling Audiobooks of 2022, from #1 I'm Glad My Mom Died by Jennette McCurdy (narrated by the author) to #10, How High We Go in the Dark by Sequoia Nagamatsu, which has a voice cast of 14.
I remember reading, with my own inside voice, How High We Go in the Dark, which includes this sentence: "I grabbed her diary and began flipping through it, trying to hear her voice again." Now I want to go back and try to hear how all those other voices bring Nagamatsu's world to life.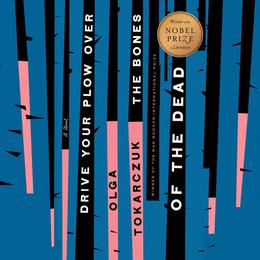 Currently I'm listening to Beata Pozniak read--possess, really--the audiobook version of Drive Your Plow Over the Bones of the Dead by Olga Tokarczuk, translated by Antonia Lloyd-Jones. It's a stunningly fine match of author's and narrator's voices.
Will I ever be ready for AI-narrated audiobooks? Will there come a time when I can't even tell the difference?
"I feel like we're almost at an inflection point because of artificial intelligence," celebrated voice actor Robin Miles told New Yorker writer Daniel A. Gross, who wrote: "In the end, the future of narration may depend on listeners; when publishers and producers inevitably try to sell us synthetic voices, it'll be up to us to hear the difference. In the days that I spent with Miles, I heard things that artificial intelligence may never be able to imitate. Once, in the Hachette studio, she recognized a line in The World We Make [by N.K. Jemisin] as a bad joke, so she allowed her voice to trail off as her character realized how unfunny she was. (In the control room, Green and Figueroa giggled, not at the joke but at the pitch-perfect delivery.)."
Apple Books' digital narration "brings together advanced speech synthesis technology with important work by teams of linguists, quality control specialists, and audio engineers to produce high-quality audiobooks from an e-book file," the company claims.
I guess we'll just have to wait and see--or hear--about that, won't we?