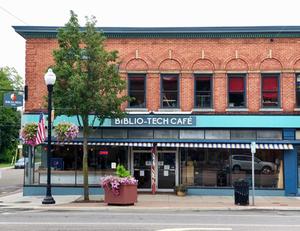 The Biblio-Tech Café, Perry, N.Y., will close after more than four years in business. On the bookshop's website, owner Giuseppe Gentile wrote: "Sadly I have reached a day I had hoped would never come. I am closing the Biblio-Tech Cafe permanently. Ever since the pandemic, this business has never really recovered. I did my best to pivot but those efforts didn't prove effective."
Gentile purchased purchased the 12-year-old indie bookstore Burlingham Books in 2018 and reopened it as the Biblio-Tech Cafe in June of that year.
"I am forever grateful to all the people who helped me along the way," he added. "This was an opportunity I never expected to get. Truly, it changed my life and I thank you so much. To my diehard customers, thank you for seeing the value in this place. I put a lot of work into making this place feel special, and the feedback I received kept that energy alive. I wish you all the best. Thank you."