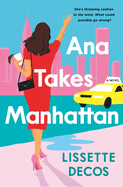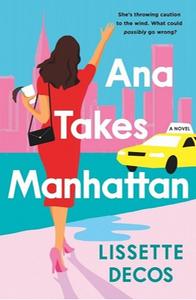 Cuban American author Lissette Decos, a producer of such reality TV programs as Say Yes to the Dress and 90 Day Fiancé, puts her insider knowledge of the industry to use in Ana Takes Manhattan. This fast-paced, fun and flirty first novel is about a single, down-on-her-luck--yet determined--reality TV producer who is stuck in a romance rut.
The organization of list-making is the glue that holds together the life of 30-something New Yorker Ana Karina. Her attention to detail allows her to excel at her job, coordinating over-the-top proposals for the reality TV show Marry Me, You Fool! When things don't play out exactly as they should, Ana and her crew know exactly how to smooth over and seamlessly splice things together into happily-ever-after--that is, until one proposal goes unexpectedly awry and upends Ana's career. Even her steady and reliable go-to assistant is suddenly reassigned to a new post.
The incident disorients Ana as she struggles to regain her confidence and professional footing. She is forced to question herself, her choices and the direction her life is taking, especially as she navigates alterations to her demanding job; dealing with her large Latin American family; and her outspoken, domineering, soon-to-be-married, Brazilian-born best friend, Gia, who thinks she knows what Ana needs more than Ana herself does. Along the way, always-organized Ana takes stock: What does she really want out of life? When Ana discovers one of her old lists that outlines exactly what she wants and doesn't want in a perfect mate for herself, she finally cuts loose and sets off on a quest to find "Mr. Right." Dating in earnest, she meets four different men. The problem is that no one man fills the bill. Rather, each man ticks off only item on the list. What's a gal to do?
Rom-com readers will delight in Decos sharing juicy behind-the-scenes insights into the inner workings of reality TV. As Ana sheds her inhibitions, she faces a slew of laugh-out-loud comedic predicaments, in which a strong supporting cast rounds off her sharp edges, changing her in well-conceived, unexpected ways. Decos's snarky, yet lovably flawed, heroine possesses a searing wit that complements many daring escapades that reroute her career and lead her down a twisty road to love. --Kathleen Gerard, blogger at Reading Between the Lines
Shelf Talker: A Cuban American reality TV producer sets off on a hilarious journey to find true love, only to discover herself and what she truly wants out of life.