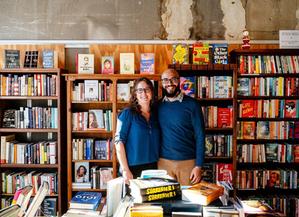 Next Chapter Books, a pop-up bookstore in Grosse Pointe, Mich., is extending its stay at the former Alger Theater in Detroit at least until the end of the month, Grosse Pointe News reported.
Store owners Sarah and Jay Williams are looking to open a bricks-and-mortar bookstore in the Grosse Pointe area eventually. They opened the Alger Theater pop-up as a holiday shop and planned to shut it down at the beginning of this year and move on to other locations. The pop-up was so well received, however, that they will continue to do business there with some modified hours.
"Many neighbors, including many Grosse Pointers, came to support our endeavor," Sarah Williams told GPN. "Seeing people's excitement over the prospect of a local bookstore, particularly one with a new and used model, has been a joy."
The bookstore sells titles for all ages and across all genres with an eye toward spotlighting local authors and authors from underrepresented communities. The owners plan to continue building a customer base and learning what the community wants while exploring options for a permanent location.