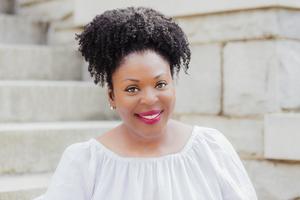 photo: Vania Stoyanova
Karen Strong is the author of the middle-grade novels Just South of Home, which was selected for several Best of Year lists including Kirkus Reviews Best Books, and Eden's Everdark, a Junior Library Guild selection and an ABA Kids' Indie Next Pick. She has also written short fiction for Star Wars. Her speculative fiction appears in the anthology A Phoenix First Must Burn. She is the editor of the young adult anthology Cool. Awkward. Black. (just published by Viking Books for Young Readers).
Handsell readers your book in 25 words or less:
Cool. Awkward. Black. is a multi-genre anthology that centers Black teens who celebrate their nerdy passions of cosplay, manga, STEM, gaming and the arts.
On your nightstand now:
Right now, I'm reading several books, a mix of fiction and nonfiction. I've always read multiple books at the same time because it means I'll always have something that speaks to my mood. I have in my stack Legends & Lattes by Travis Baldree because I heard it was a cozy fantasy about an orc opening a coffee shop. So far, it's been lovely. Saturnalia by Stephanie Feldman is speaking to my speculative, dark heart, and I love that it has touches of gothic horror. Novelist as a Vocation by Haruki Murakami, since I always love reading about how other writers approach their work, and I love that it's part memoir and part writing advice. The Milky Way by Moiya McTier is also in my stack of books because the cosmos is an eternal favorite subject, and the author provides a different take by giving us an origin story from the galaxy's point of view.
Favorite book when you were a child:
It may be a toss-up between Lyle, Lyle, Crocodile by Bernard Waber and Madeline by Ludwig Bemelmans. I can still remember the images of the cuddly crocodile and the girls in their straight lines. I remember loving these books so much.
Your top five authors:
I read so many books and have too many favorites to narrow it down to just five authors. However, I do love Toni Morrison, Octavia E. Butler, Gloria Naylor, Zora Neale Hurston and the poet Lucille Clifton. Reading the work of these Black women always feels like returning home.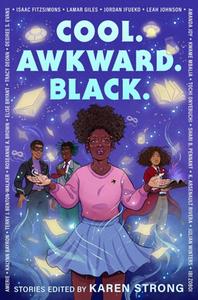 Book you're an evangelist for:
A book that I'm always recommending to everyone is The Memory Theater by Karin Tidbeck. It's a fantasy filled with parallel worlds, folklore and magic. Deliciously dark with deceptively simple but exquisite prose, it's a perfect book for the winter season, which is when I like to re-read it.
Book you've bought for the cover:
One of the most beautiful covers--that actually made me gasp--is Hurricane Child by Kacen Callender. The story is set on the island of St. Thomas in the U.S. Virgin Islands. The cover could easily be a piece of art to hang on the wall. The writing is just as haunting and beautiful, too.
Book you hid from your parents:
I lived in a household filled with books, and I was also an accelerated reader, so I didn't need to hide any books from my parents. However, they did think it was strange I devoured books by Stephen King. One of my favorites as a kid was 'Salem's Lot.
Book that changed your life:
A book that had a strong impact on my writing journey was The Friends by Rosa Guy. The author wrote in this book about relationships between Black girls that were complex and messy. It gave a reflection of myself that I hadn't seen before in fiction. I wasn't a teen when I read this novel, but it did change my focus to write for this age category because I'd seen what was possible, and I wanted there to be more of this type of work available for teens--especially for Black girls.
Favorite line from a book:
"In her spare time, she looked to books or the stars for company." --Gods of Jade and Shadow by Silvia Moreno-Garcia
I read so many books and have many favorite lines but this particular one has stayed with me. I truly believe books and stars can be great company.
Five books you'll never part with:
Such a very hard question because I have so many books and don't want to part with any of them! But perhaps I could trick my brain and pretend I'm leaving for a long journey and won't be returning to my library anytime soon. If that were the case, these would be the books I would take with me:
Lirael by Garth Nix
The Source of Self-Regard by Toni Morrison
Drinking Coffee Elsewhere by ZZ Packer
The Priory of the Orange Tree by Samantha Shannon
The Magic Fish by Trung Le Nguyen
Book you most want to read again for the first time:
I would love to get book amnesia and read Legendborn by Tracy Deonn for the first time. I love the way she writes about grief, the intersecting worlds of the American South and who gets to be a legend and why.