BrocheAroe Fabian, owner of River Dog Book Co., Oconomowoc, Wis., reports on the Irish Book Trade Conference 2023: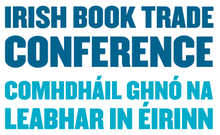 Thanks to RISE Bookselling, the European & International Booksellers Federation program, nine non-Irish booksellers traveled to Cork for the Irish Book Trade Conference, held February 27-28. Joining the more than 80 Irish booksellers and publishers were two booksellers from Norway, two from New Zealand, one French bookseller and four American booksellers: Pamela Bailie, Hipocampo Children's Books, Rochester, N.Y.; Carrie Bertz, Bookies Bookstores, Chicago & Homewood, Ill.; Meg Wasmer, Copper Dog Books, Beverly, Mass.; and me.
The camaraderie of book industry people is universal--the joy of Irish booksellers and publishing professionals seeing each other in person for the first time since before the pandemic was reminiscent of the joy felt by American booksellers at Winter Institute in Seattle just the week before.
RISE booksellers and staff, including (front row, l.) Pamela Bailie, Hipocampo Children's Books, (back row, second from l.) Meg Wasmer, Copper Dog Books, and (back row, fourth from l.) BrocheAroe Fabian, River Dog Book Co.
Pride in Irish literature was notable throughout the conference, both at the publisher tables on the trade show floor and during the bookshop tour, which featured Dubray, Eason, Vibes & Scribes and Waterstones. In addition to having its own personality, each store had at least one section and many faceouts highlighting Irish literature. When American indie booksellers think of local authors, self-published authors selling books on consignment often come to mind first. Witnessing the pride Irish booksellers have for Irish literature has inspired River Dog Book Co. to create a book list highlighting Wisconsin authors, something new for the store despite having held many events with Wisconsin authors.
That close connection between Irish bookstores and local authors was also underscored during the "Bookshop Events--Back on the Road" panel, when Irish booksellers were shocked to hear that some independent bookstores in the U.S. have authors sign event contracts that include required publicity and promotion efforts the author must provide. U.S. and Irish booksellers agreed that bookseller-to-community direct word-of-mouth (talk up events with customers in-store and at other events) and author promotion via social media and newsletters are the most effective ways to ensure event attendance and book sales, and it drove home how crucial the store-author relationship is.
Other sessions addressed a range of topics:
A keynote debate on the value of books highlighted that a perfect storm of supply-chain issues, rising printing costs, Brexit, a possible looming global recession and the increasing cover price of books is a concern just when people may have less money to spend on non-essential items. Still, attendees were encouraged by the explosion of new readers thanks to #BookTok, Colleen Hoover and several popular trends inspiring people to read the hottest titles and authors of the moment.
An analysis by Nielsen of Irish consumer market sales and trends showed that fiction, especially literary fiction, science fiction and fantasy, romance and sagas, and graphic novels are up, with record sales for the Irish print book market, including these top five titles: It Ends with Us and It Starts with Us by Colleen Hoover; The Seven Husbands of Evelyn Hugo by Taylor Jenkins Reid; Again, Rachel by Marian Keyes; and Forever Home by Graham Norton. Most nonfiction categories are down, with the exception of memoirs thanks to bestsellers like Prince Harry's Spare).
A state of the union address by Bookselling Ireland, Publishing Ireland and the Booksellers Association of the U.K. and Ireland highlighted that there has been a 3%-5% increase in overall membership and in independent bookstore locations in 2023, with 111 indie businesses operating 138 locations in the Republic of Ireland and 18 indie bookstores/locations in Northern Ireland.
A few key takeaways from the conference education sessions include:
A combination of concentrated digital marketing/social media presence (as in, pick one platform and invest time and effort there, rather than spreading a presence thinly across multiple social media accounts, and commit to sending e-newsletters) and community word of mouth are offering the biggest ROI for community building, sales pipeline and spreading the word about a shop's existence and store programming.
Irish diversity, equity and inclusion efforts have focused primarily on inclusion and representation of local/heritage languages such as Irish and Welsh and making safe spaces for the LGBTQ+ community to work in bookshops and see themselves represented in the literature. This is a great place to start, especially as book banning aimed at LGBTQ+ books is increasing globally, but it was acknowledged this is only a starting point.
Having a formalized staff training and promotion program can help create dedicated, long-term/career booksellers and bookstore owners. In France, there's a two-year education/hands-on learning certificate program one must go through to become a bookseller, and in Ireland, several stores mentioned having up to a 10-month training/on-boarding program for new booksellers. At the conference, the BA launched a series of resources members can access via the BA website to assist with staff training and development.
And last, here's advice for booksellers applying for a RISE Bookselling opportunity: pack your walking shoes, bring store stickers or other small giveaway items, and leave at least half a suitcase empty for all the books you'll be bringing home. Find out more about applying for a future RISE Bookselling conference opportunity at RiseBookselling.eu.