After Wi2023, the first in-person Winter Institute in three years, we received several inquiries that have led us to create a new Shelf Awareness feature: personal/missed connections ads. Among the submissions: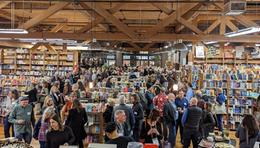 Looking for that special Coben fan in the crowd.
"At the Elliott Bay-Shelf Awareness party, you mentioned Harlan Coben. I said I loved him. Give me a clue or two and I Will Find You."
"I heard you recommended The House Is on Fire. I love it too! Let's burn the house down with one another!"
"In the galley room, we both took copies of Hello Beautiful. I whispered the title. You smiled. I smiled back, but I should have said more. Contact me, and I'll happily say hello again."