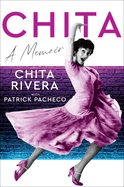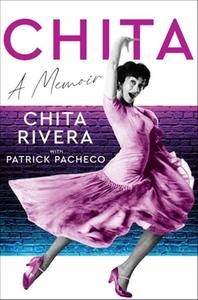 In most showbiz memoirs written when the star is in, shall we say, her third act, the early- and mid-career highlights tend to dominate. Not so with Chita, a showstopping retrospective by musical theater legend Chita Rivera, written with Patrick Pacheco: the 10-time Tony Award nominee and possessor of multiple theater trophies was being courted by awards into her 80s. Steady work across the decades has brought Rivera so many places that, as she writes, she can't relate to Broadway's survivor anthem "I'm Still Here": "It's brilliant, like all of Steve Sondheim's work. But where was 'here'? Not any place I'd been. So how could I still be 'here'?"
Rivera didn't start out much of anywhere. Born Dolores Conchita Figueroa del Rivero in 1933, Rivera grew up in a bustling Catholic household in Washington, D.C., the daughter of a Scottish-Irish mother (or so Rivera thought; the truth is more complicated) and a Puerto Rico-born musician father, who died when she was seven. In hopes of redirecting her tomboy daughter's thrill-seeking energies, Rivera's mother signed her up for ballet lessons. Scouts spotted Rivera as a teenager and lured her to New York's School of American Ballet with a scholarship. Several years of dues-paying later, Rivera found herself originating the role of Anita in the 1957 Broadway production of West Side Story. Suddenly, being "shorter, darker, and more Puerto Rican" than her dancing peers was a career asset.
Chita is awash in stories about Rivera's encounters with leading lights of Old Broadway, among them Elaine Stritch, Liza Minnelli and Sammy Davis Jr. ("a friend and one-time lover"). There's an indispensable chapter devoted to her experience originating the role of Velma Kelly in 1975's Chicago, which involved collaboration with her dancer friend Gwen Verdon and Verdon's husband, the director, choreographer and incurable womanizer Bob Fosse. ("He never tried anything with me, and I'm not sure I'm not a little upset by that.")
Chita is notable for its spirit of unflagging fellowship in a famously competitive and backstabby business. Rivera has no time for the press's manufactured rivalries (Rivera versus Verdon; Rivera versus Rita Moreno, the first West Side Story movie's Anita), although she allows her alter ego, Dolores, the odd diva moment ("What's up with all these actresses winning Oscars for playing roles I created?"). How fabulous for readers that Rivera is still here--and that they now have her knockout memoir. --Nell Beram, author and freelance writer
Shelf Talker: This showstopping memoir by musical theater legend Chita Rivera is notable for its spirit of unflagging fellowship in a famously competitive and backstabby business.