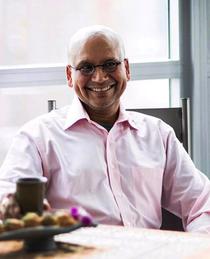 Raghavan Iyer
Raghavan Iyer, "who as a young man left India for the United States clueless about how to cook even a simple potato curry and went on to teach America's heartland how to prepare one of the world's most complex cuisines," died March 31, the New York Times reported. He was 61.
"When I first got to this country, I was almost embarrassed about where I was from and the food we ate," he said in a Times interview in February, adding that over time he realized that his culture was the "tool" he could use to overcome feelings of inferiority.
Iyer "parlayed a rascally charm and a palate imprinted by the vegetarian South Indian food of his childhood into a prolific career, one built in part on the cookbooks of Madhur Jaffrey and Julie Sahni, the Indian cooking heavyweights who began their culinary careers in the 1970s. He referred to them as 'the grandes dames of Indian cooking,' " the Times wrote, noting that his contributions "were a bridge to a new breed of American cooks and cookbook authors from the Indian diaspora."
Iyer's seven books include Betty Crocker's Indian Home Cooking (2001); 660 Curries: The Gateway to Indian Cooking (2008); and Smashed, Mashed, Boiled, and Baked--and Fried Too! (2016).
He wrote his last book, On the Curry Trail: Chasing the Flavor That Seduced the World in 50 Recipes, in between chemotherapy and surgeries. It was published in February. "We were pummeled by colonials for hundreds and hundreds and hundreds of years," he said. "So I wanted to look at the diaspora of curry powders through the eyes of the colonials who invented it and the Indians who they sent around the world."
Although Iyer consulted for restaurants around the country, taught workshops, led tours to India, created a line of frozen Indian meals for Target, and instructed thousands of professional cooks at universities, museums and companies, "his favorite thing was helping individual cooks confidently tackle dishes like curries and biryanis, often using basic ingredients common in supermarkets," the Times noted.
"He was very kind to those of us who are not great cooks," said author Amy Tan, who was a friend. "He knew if you made this all authentic, quote unquote, I am not going make it. He was all about love and sharing and being honest and genuine."