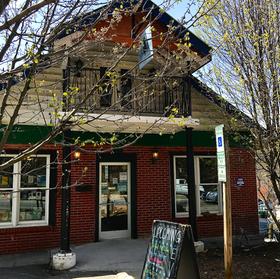 Foggy Pine Books in Boone, N.C., is closing permanently on April 15.
"Over the last 7 years, I have been incredibly lucky to receive the love, kindness and support of this wonderful community I call home," owner Max Ruthless wrote on the bookstore's website. "I couldn't have found better folks to share space with and I'm truly grateful for the time we've had together.
"However, for the sake of my personal health and financial wellbeing, I have to admit that I'm no longer capable of sharing my joy and love of books with others in this way. I am sorry to go and I am unable to continue."
Until April 15, the bookstore will be open Tuesday through Saturday and all new books will be 30% off, with used books discounted 50%. Ruthless noted that any customer with an open order with Foggy Pine Books will be contacted individually.
In 2021, Stephen Colbert featured Foggy Pine Books in a segment on his special post-Super Bowl edition of The Late Show, saying: "Big companies aren't the ones that need our support the most right now. It's small businesses that have been hurt the most in this pandemic."