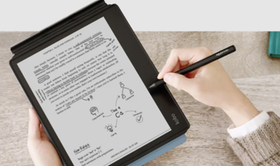 Rakuten Kobo has announced the U.S. and U.K. launches of Kobo Plus, the subscription plan offering unlimited access to more than 1.3 million e-books and more than 100,000 audiobooks for a monthly fee.
"Kobo Plus has become one of our most popular offerings in the Netherlands, Canada, Portugal, Australia, Italy, and France, and it's our pleasure and privilege to be expanding the subscription service in the U.S. and U.K., so that readers can enjoy reading and listening without boundaries," said Bart Robers, director, audiobooks and global subscriptions, Rakuten Kobo.
Customers can access Kobo Plus via the Kobo Books app for iOS or Android and directly on Kobo e-readers. Three plan options are offered: Kobo Plus Read: unlimited e-books for $7.99 per month; Kobo Plus Listen: unlimited audiobooks for $7.99 per month; and Kobo Plus Read & Listen: unlimited e-books and audiobooks for $9.99 per month.
The company has also introduced the Kobo Elipsa 2E e-reader, featuring a 10.3" glare-free E Ink touchscreen, ComfortLight PRO and improved Kobo Stylus 2. The device retails for $399.99. Pre-orders are being accepted, and the device will be available in stores and online as of April 19.
Rakuten Kobo CEO Michael Tamblyn described the Kobo Elipsa 2E with upgraded Kobo Stylus 2 as "the latest step in our journey to make reading lives better, bridging gaps between print and digital books, and offering an unparalleled reading experience. We understand that, for many of our valued customers, reading is more than words on a page. It is about engaging with ideas. Marking up, highlighting, capturing inspiration in infinite notebooks of almost magical capability using a versatile, intuitively-designed stylus--these are essential for capturing the thoughts and ideas that reading inspires."