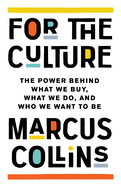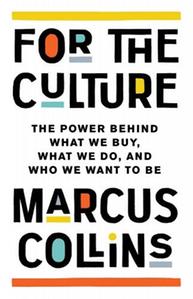 Whether you're trying to sell a product, elect a political candidate or promote a cause, if you want to succeed, it's all about getting to the heart of your audience's worldview. That's the principal message of scholar and marketing veteran Marcus Collins's fascinating and fun For the Culture: The Power Behind What We Buy, What We Do, and Who We Want to Be.
Collins, who holds a Ph.D. in marketing, is a marketing professor at the University of Michigan's Ross School of Business and head of strategy at Wieden+Kennedy, a prominent advertising agency that includes Nike on its list of blue-chip clients. He skillfully marries academic theory and a wealth of practical experience to explain why efforts at persuasion rooted in brand features or value propositions ultimately are destined to fail. Instead, he argues, for anyone interested in motivating others to action, "no vehicle is more powerful than culture when it comes to influencing human behavior."
For Collins, culture is a "realized meaning-making system that is anchored in our identity (who we are) and made up of three elements: how we see the world, our shared way of life, and the creation of shared expression." These elements manifest themselves in entities he calls "congregations" (he frequently invokes religious imagery and makes a strong case for doing that) and their component units he calls "tribes," which are the aggregations of people that form the critical networks of influence that persuaders must tap into to succeed.
To advance his claims, Collins summons an impressive selection of examples from the marketing world, many of them from his own career. "Audiences buy products. Congregations buy products as evidence of their beliefs," he writes. As proof, he points to the success of Nike, Patagonia, and Apple; they have found the secret to generating intense loyalty in highly competitive product categories by appealing, above all, to how their customers think about themselves and not simply touting what they believe are the superior features of their goods. Collins's own work as director of digital strategy for Beyoncé; on projects like the campaign that countered local opposition to the relocation of the NBA's Nets franchise to Brooklyn; and on the successful Budweiser Made in America Festival (a music festival held on Labor Day on Ben Franklin Parkway in Philadelphia) lend credibility to his ideas.
Collins ends each of his chapters with a brief, helpful coda he entitles "From Know-Why to Know-How," offering specific action steps for implementing his theories. For the Culture concludes on a cautionary note, with Collins pointing out that the strategies he advocates are value-neutral and thus can be employed to sell sneakers or recruit members to a terror network like ISIS. This eye-opening book arms readers with a wealth of knowledge about how we make important choices and how to mobilize others using innovative tactics and tools. --Harvey Freedenberg, freelance reviewer
Shelf Talker: Marketing professor and advertising agency veteran Marcus Collins shares valuable insights on culture's power to move people to action.