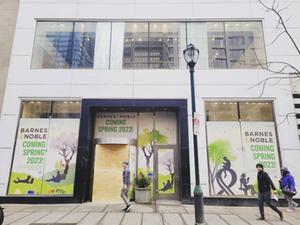 Barnes & Noble will open a new location in Philadelphia, Pa., on Wednesday, April 12. The store, located at 1708 Chestnut St. in Center City, resides in a space formerly occupied by a Forever 21 and features B&N's new store design. Sportswriter Ray Didinger will preside over the ribbon cutting for the new location and will sign copies of his memoir, Finished Business: My Fifty Years of Headlines, Heroes, and Heartaches (Temple University Press).
Previously, B&N had a location in Rittenhouse Square that was in operation for 26 years.
---
Also on April 12, B&N is reopening its Danbury, Conn., store in the Danbury Fair Mall. Previously located in Danbury Square, the shop now has a B&N Cafe and spans 20,000 square feet across two floors. It will officially open at 10 a.m. Wednesday, with author Amy Poeppel (The Sweet Spot) on hand for a ribbon cutting and signing.
The store had operated in Danbury Square for 32 years.
---
Barnes & Noble plans to open a new location in Wareham, Mass., on Wednesday, June 14, Wareham Week reported. The store, which will be just under 8,000 square feet, will be in the Wareham Crossing shopping mall. Other retailers at the mall include GameStop, JC Penney, Lowe's, Michaels, Petco, TJ Maxx, Staples, and Target.
Wareham Week noted that the town has not had a bookstore since 2011, when Borders closed a 25,000-square-foot store in the same shopping mall.