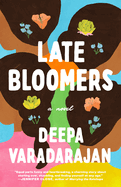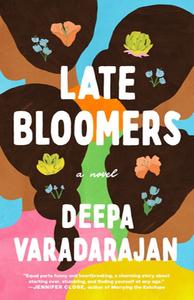 There's something inherently brave about starting over, as Deepa Varadarajan explores in her charming debut novel, Late Bloomers. That's what Nikesh thinks of his parents, anyway, watching "the two of them trying to cobble together new lives while other Indian people their age were settling into creaky lawn chairs... reconciling themselves to deadened marriages and eventless retirements." But not Suresh and Lata, who have divorced after 36 years of unhappy marriage. Lata gets her first-ever job at a local university's music library and enjoys living alone in her condo. Suresh turns to online dating, eternally optimistic despite the never-ending lies of "[a]ll these internet women." And while Nikesh finds his father's dating adventures somewhat romantic, his sister, Priya, describes her father's behavior as "post-midlife crisis; act your age; ridiculous; embarrassment."
As the narrative shifts among the quartet's first-person perspectives, readers learn that, of course, neither Nikesh nor Priya have much of a leg to stand on in judging their parents' actions: Nikesh has his own complicated relationship with the mother of his young son, and Priya has been involved with a married man in an affair that has lasted about a year and a half. And neither Suresh nor Lata are quite as happy in their second chances as they pretend to be. All of these secrets come to a head when the four reconvene at the family home for Nikesh's son's first birthday.
Late Bloomers is a novel that celebrates love--and the quest for it--in all of its many varieties: familial, romantic, parental, dutiful, young, old, passionate, passionless. Lata relearns how to have a relationship with Suresh outside the bounds of their less-than-happy marriage and with her children as grown adults. Priya questions her past romantic mistakes and what draws her to an unavailable man. Suresh seeks an escape from himself in any variety, feeling his failures as a "portly, indecisive man, who rarely knew the right things to say, who bungled his first marriage, who loved his children but felt his absentmindedness often bordered on neglect." Nikesh avoids the conflicts in his own career and relationship by burying himself in his role of new father.
Within these deeply complex individuals and the many ways they knock together, Varadarajan offers a novel shaped--but not defined--by the flaws of its characters, a story that peels back their layers as they find their way as individuals and as a family. Late Bloomers, at times laugh-out-loud funny and at times quietly heartbreaking, is an intricate novel about people who rediscover themselves. Or perhaps, by being honest with themselves and with each other, discover themselves for the very first time. --Kerry McHugh, freelance writer
Shelf Talker: A family of four gets a second chance at self-discovery--as individuals and as a family--following the dissolution of a decades-long unhappy marriage.