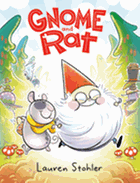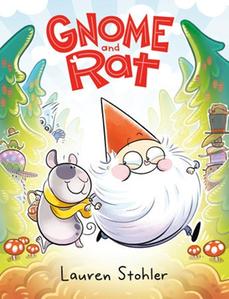 The classic odd-couple pairing gets a fresh addition with Lauren Stohler's Gnome and Rat, a sunny and lighthearted graphic chapter book featuring the antics of the titular forest friends.
Gnome and Rat share a tree stump home in a cozy corner of The Enormous Forest. One morning in Gnomevember, Gnome wakes with glee to celebrate his hat's birthday. He removes the red, pointy cap from beneath a protective glass cloche, serenading it and spiffing it up before donning the hat to greet Rat in their kitchen. Rat sits tackling a crossword puzzle and feigning ignorance as to the special day; readers know before Gnome does that Rat has secretly decorated for this occasion. The two celebrate this "happy, happy Hat Day" with cupcakes--the voluminous frosted peaks mimic Gnome's cone. Through four more whimsical adventures at home and in their woods, Gnome remains mostly focused on his hat (with occasional thoughts of sausages) while Rat plays the ever-supportive companion and comedic straight man.
Stohler (The Problem with Pajamas) helpfully sets the stage by offering readers a distanced view of The Enormous Forest at the book's start, with its rolling hills, Duck Pond, and Mushroom Trail. Her delightfully detailed architectural sketch of the Gnome Home would have fit right into a vintage Strawberry Shortcake cartoon. She echoes the cheery red of Gnome's hat in white-spotted toadstools throughout the Forest, and the overall illustrative effect is vivid yet cozy. Expressive characterization and exaggerated body movements are supported by onomatopoeic pops and emphatic text in an impressive variety of comics panel layouts.
Chapter titles like "Hat Day" and "Back Hat It Again" hint that Gnome's beloved headwear takes center stage throughout the book. Each vignette may be read independently, although recurring side characters and small illustrative details unify the reading experience. A particularly strong throughline involves a casual exchange between Gnome and a turtle at the end of chapter three that rewards careful readers with amusing visual gags at the ends of the next two stories. Fans of modern graphic novel friendships like Narwhal and Jelly or Norma and Belly should find similar camaraderie and capers here, with subtle nods to classics like P.D. Eastman's Go, Dog. Go! and Arnold Lobel's antithetical amphibian pals.
With no cap on potential hat-related forest adventures for Gnome and Rat, it will be a treat to see what this jolly series celebrates next. --Kit Ballenger, youth librarian, Help Your Shelf
Shelf Talker: Over five energetic chapters set in a vivid forest, an ebullient Gnome and his patient pal, Rat, celebrate Gnome's beloved hat in a jolly and expressive graphic early chapter book.