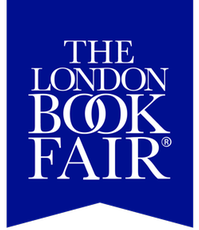 Sales growth of 10%-20% at the height of the pandemic was an "unbelievable ride" that was unprecedented, and while recent sales are down compared to that peak, book people should remember that sales are still "way up" compared to 2019, the last full year before the pandemic, Brian Murray, president and CEO of HarperCollins, said in the opening keynote at the London Book Fair, which started yesterday. The business has stabilized and is now back to a more traditional growth rate of 2%-3%.
Among the biggest challenges to the book world now are inflationary jumps that Murray called a "shock to the system that we're not out of yet" but which "we're managing well." The double-digit increases of the past several years in the costs of fuel, energy, and labor were something new for the current generation of publishers. Adding to the problem: in the past decade, the price of books has not kept up with inflation. While this makes books "a fantastic value," prices need to adjust, and "we're seeing that in the marketplace." He called this a long "delayed and overdue" development.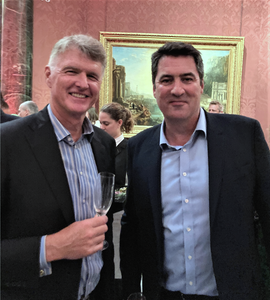 HarperCollins hosted a busy party Monday evening at London's National Gallery, where fair attendees mixed with masterworks by J.M.W. Turner and others. Pictured: HarperCollins president and CEO Brian Murray (l.) with HarperCollins UK CEO Charlie Redmayne. (photo: Matt Baldacci)
Another important challenge is consumer consumer spending trends. 2020 was an exceptionally good year for book sales because readers had more discretionary income and more discretionary time since they couldn't travel, or go out to eat, or to the movies, or see sports events. "Books were it for a while, and it was a nice ride while we had it," Murray said. "I often refer to it as we had a pandemic party in the industry, and the end of 2022 was the hangover, and we're just getting through the hangover now."
The independent channel is "doing well" in the U.S., the U.K., and Australia, Murray continued. "It's nice to see readers have come back and rediscovered their love affair with booksellers. People realized they like that connection with the local bookseller and they like their advice and liked experiencing that serendipity of walking into a local bookshop " He called this "a very healthy thing for the publishing industry."
Murray also praised James Daunt, CEO of Barnes & Noble, for doing "a wonderful job." With a back-to-basics approach, Daunt has made the bookseller more efficient and lowered returns. Murray praised the new B&N store layouts, with tables of books in the front now instead of nonbooks. He also noted that Daunt "took advantage of the pandemic," speeding up the already planned redesign of B&N stores. For the first time in years, B&N will have a net expansion of stores, reversing the decline under the previous regime.
Asked about labor relations and the recently concluded agreement with the HarperCollins union, which had gone on strike, Murray said, "We're very happy it's behind us." He added that the company strives to have good relationships with all employees and its unions, and said that, especially in a time of great change, communication is key, including by the company with employees and by employees with managers and senior management, as well as by the company when hiring staff and bringing people on.
Murray called the development of AI simultaneously "fascinating" and "scary," adding that it feels "we're on the cusp of a new wave of technology" comparable with the growth and development of cell phones and social media, although each of these waves occur faster and are more compressed than their predecessors.
There is no single AI tool that will solve all problems, Murray continued, but instead there are many "little applications" to help HarperCollins publish better. Among examples, HarperCollins is testing AI for translations, text-to-speech, first drafts of marketing copy, summarizing manuscripts, and getting the best metadata for online retailers.
At the same time, "AI content generation scares me," Murray said, noting that the ability of machines to create stories and books will, among other things, challenge copyright, which was devised only for human-created creations. "I haven't seen a solution for book publishers, but we're aware and keeping our eyes open."
Asked about efforts in the U.S. to outlaw or otherwise circumscribe TikTok, Murray called BookTok a "phenomenon" that has had an "astounding" impact on book sales, both backlist and frontlist, as influencers have reached "millions and millions" of followers. If there is some action taken against TikTok, "I would hope that those influencers will continue to do what they're doing today but find a different platform."
Regarding the Justice Department victory blocking the purchase of Simon & Schuster by Penguin Random House, Murray said he was "not surprised" by the DOJ victory and that the advice "we received was that this was not going to be an easy case to win." Antitrust cases are all about "how you define the market," and the Justice Department used "the novel approach" of making it a monopsony case.
He didn't say whether HarperCollins would make an offer, but said HarperCollins has "a long track record of integrating different companies." He added that he thinks HarperCollins and S&S is "a better fit" than PRH and S&S. The judge's decision intimated that another publisher might be able to acquire S&S. "The bar is higher," Murray said, "but the door is not closed." As others have said, he noted that a possible purchaser of S&S could be a financial buyer. --John Mutter