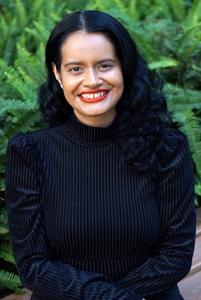 photo: Melanie Barbosa
Amparo Ortiz is the author of the Blazewrath Games duology and has published short story comics. Saving Chupie (HarperAlley, August 1) is her full-length graphic novel debut. When she's not writing, she teaches ESL to college students and watches a lot of K-pop videos. Her YA novel Last Sunrise in Eterna (just published by Page Street Kids) covers a pivotal week in the life of a teenage girl compelled to travel to the island of Eterna, off the eastern coast of Puerto Rico.
Handsell readers your book in 25 words or less:
Last Sunrise in Eterna is the story of an angry goth girl who has seven days to save her mom from the elves she despises.
On your nightstand now:
I have several ARCS, three physical and one digital. Physical books are ARCs of Destiny Soria's (D.L. Soria) upcoming adult debut, Thief Liar Lady, as well as Yamile Saied Méndez's September 2023 rom-com, Love of My Lives. Both authors are dear friends of mine, so they're automatically required to send me everything they ever write and endure my fangirling. The third physical book is R.F. Kuang's The Dragon Republic. I started this series back in 2020, but I kept pushing the sequel off because I was terrified of stressing out even more the second time around. Wish me luck, please. As for the digital ARC, I have When Ghosts Call Us Home by Katya de Becerra, which I've already started and am loving. It's just the right amount of creepy mystery, parasocial relationships gone wrong, and heartbreaking family dynamics.
Favorite book when you were a child:
I didn't start reading novels for fun until I was 14, and that was also the start of my fantasy obsession in literature. However, my favorite book back then remains the same today: Laurie Halse Anderson's Speak. It broke my heart and pieced it back together all in one sitting, and I'd never read a book that quickly in my life. I loved how uncomfortable, angry, helpless, and alone I felt reading it, even though I've never related to her main character's specific plight. Anderson made me realize how much power words have without having to stuff the page with them. I wish I could say I learned to do the same, but I've yet to master such simplicity in deepening a character's voice and perspective.
Your top five authors:
1) R.F. Kuang. My favorite world-builder in fantasy to date, and I also love how nerdy she is with her references and research.
2) Jonny Garza Villa. There should be academic studies on how Jonny creates the absolute sweetest yet most tense love stories in young adult fiction! I want to live in their brain.
3) Courtney Summers. Unapologetic rage and revenge while exploring power dynamics through a feminist lens? Sign me up always.
4) Jason Reynolds. One of the very first contemporary realistic books I read was Ghost and it hooked me from the very start. It also made me impulse-buy everything he's ever written.
5) Marjane Satrapi. This one is kind of cheating for me because I saw the Persepolis movie first, then I went back to read the graphic novels. The way Satrapi works with panel structure, imagery, and cultural symbolism remains my greatest teacher in developing scripts.
Book you've faked reading:
High school was a wonderful time to pretend I'd done my reading for Spanish class. In Puerto Rico, our Spanish classes are mostly literature/literary genre-heavy, and English is mostly grammar/ESL-heavy. I'm guilty of pretending to have finished Cervantes's Don Quijote de la Mancha. At the time, I considered it too long for my taste. Maybe I'll actually finish it one day.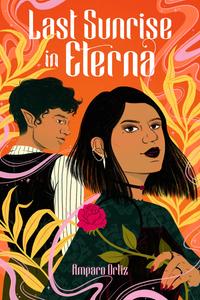 Book you're an evangelist for:
I will always tell everyone to read anything Silvia Moreno-Garcia writes, but Mexican Gothic is the book I love talking about the most. This is largely due to my love of horror in general, and Latinx feminist gothic narratives specifically, which we desperately need more of. It was such a trip to read it in 2020, too--the perfect year to freak myself out more. Or maybe not. Jury's still out.
Book you've bought for the cover:
Definitely Cullen Bunn's Death Follows [illustrated by A.C. Zamudio]. It turned out to be one of my absolute favorite graphic novels of all time, but when I first saw it in a bookstore, I noticed the haunting, grotesque cover of a smiling man with rotting teeth, and immediately went over to read what it was about. I was overjoyed when the book matched the cover's intensity.
Book you hid from your parents:
They bought me all my books, so I never really hid anything from them. Even when I started making my own money, they'd go with me to bookstores, and knew what I was purchasing. Not specifying how much profanity a book contained was something I did often, though. It was great fun to see them raise an eyebrow whenever I said a brand-new curse word they hadn't heard me say before, but they figured it was from watching all those horror movies they had on 24/7 at home.
Book that changed your life:
Refer back to Laurie Halse Anderson's Speak, but a more recent breakthrough happened after reading Courtney Summers's Sadie. Such a phenomenal novel about a young girl seeking revenge on the man who murdered her sister, and one I will always come back to.
Favorite line from a book:
"One day, when a girl was born in Rosario, the earth would shake with anticipation for her future and not dread." --Yamile Saied Méndez, Furia
Five books you'll never part with:
Karuna Riazi's The Gauntlet
Adrianna Cuevas's Cuba in My Pocket
Elizabeth Acevedo's The Poet X
Tracy Deonn's Legendborn
Andrea Beatriz Arango's Iveliz Explains It All
All five books shaped the way I write my own stories, as well as entertained me or taught me something about myself. If a book can do all three, it becomes an instant classic in my eyes, and I'll happily throw the gauntlet down for each and every one.
Book you most want to read again for the first time:
Jonny Garza Villa's Fifteen Hundred Miles from the Sun. I'm obsessed with the way Jonny makes readers root for their characters immediately and wholeheartedly, even at their most flawed. Also, their love stories are impossible to stop thinking about long after you've finished reading them.
Book you wish you had written:
Any and all of the She-Hulk comics. She's my favorite Marvel super-heroine, and it remains my dream to write a story about her someday. Additionally, a very special shout-out to my girl, Ava Ayala, aka White Tiger. She was my very first collaboration with Marvel Comics for the Marvel Voices: Comunidades anthology, and I'd love to return to her world someday, too.