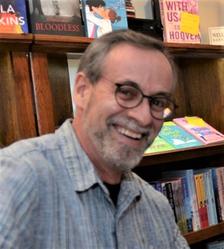 John Maggitti
John Maggitti, co-founder of Novel Bay Booksellers, Sturgeon Bay, Wis., died April 8. He was 63. The bookstore posted on Facebook, in part: "Our hearts are heavy at the loss of Novel Bay co-founder John Maggitti. John passed away peacefully in his sleep Saturday evening with Liz at his side. Per John's request there will not be a service.... Thank you to all our friends and customers who have been so supportive during this time, and continue to support the dream John and Liz have had to promote literacy and make the joy of reading accessible to the community."

Maggitti's early career "as a high-energy physicist included working on defense and national security assignments with occasional years in the private sector," his obituary noted, adding that later "John moved to Sturgeon Bay with Liz and supported her dream of opening a bookstore, Novel Bay Booksellers, in 2018 in the heart of the downtown. John enjoyed sharing his love for literature and wide depth of knowledge in many subjects."

Lion's Mouth Bookstore in Green Bay posted a tribute on Facebook: "During our few brief encounters as fellow booksellers, we were often struck by John's energy and love for the business of bookselling. John brought a certain zest to the trade that could be felt long after the visit was over, and the buzz from Novel Bay could be felt all the way down here in Green Bay. Our sympathy & love goes out to Liz and the staff, and to the tight-knit community that surrounds the Novel Bay family. May you all find moments of peace during this difficult time.... Rest easy, John, and thank you for your tireless contribution to the independent bookselling community. You will be missed."