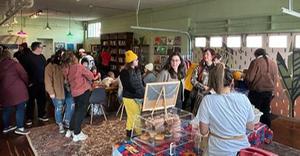 Parable, a Black-owned bookstore that opened in Tacoma, Wash., in 2021, has launched a crowdfunding campaign to help keep the store open, the New Tribune reported. The GoFundMe campaign, which has a goal of $31,000, went live five days ago and has already raised more than $17,000.
Parable co-owner LaKecia Farmer, who owns the store with family members Le'Ecia Farmer and Deatria Williams, told the News Tribune that business has slowed since January and the store owners had started limiting hours to weekends only.
Per the GoFundMe page, the owners plan to use the raised funds to help hire two support employees: one to do event planning and another to staff the bookstore.
Parable's new and used book inventory centers BIPOC authors, disabled authors, and queer and trans authors, while its nonbook inventory includes plants, records and a variety of items produced by small businesses and artisans throughout the Pacific Northwest. Most of those suppliers, Farmer noted, are BIPOC or women as well.
Parable also hosts a variety of events, ranging from author talks and movie screenings to maker markets and a recent "Caribbean Queens" pop-up.
After seeing the community's response to the campaign, Farmer said, "This is the first time we've been hopeful in a long time. We get to add capacity. That is incredible."