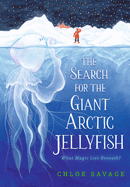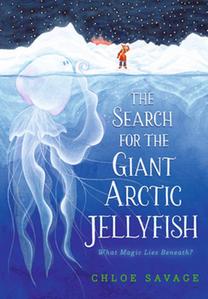 Debut author and illustrator Chloe Savage dives into the wonders of the Arctic in a delightful marine adventure featuring female scientist Dr. Morley. Savage pairs her narration with playful ink-and-watercolor illustrations that are so detailed that the reading experience can be as much of an exploration as Morley's search for the jellyfish.
Morley's life ambition is to find the giant Arctic jellyfish, which has been theorized but never seen. The determined Dr. Morley and her dedicated crew have researched and planned for years. Now they are ready. They bundle up in warm clothes, stock the boat, and set sail "on their adventure to the northernmost tip of the world." They encounter "a majestic pod of narwhals," "a curious pod of beluga whales," and "playful orca." They experience the aurora borealis, brutal cold, and the ice shelf. But the team cannot find the primary objective of their expedition. The giant Arctic jellyfish, though, adorably appears just out of sight during every step of the journey: peeking over the ice, floating underwater, gazing at the northern lights from behind the ship.
The art, silky and fluid as a jellyfish, that graces the pages of this endearing picture book leverages perspective to emphasize the vastness of the Arctic as well as the depth of the chilly waters they are exploring. A glacier above the water dwarfs a polar bear; below, the iceberg descends into darker and darker waters. Additional details--like socks, hats, and pants drying on a rope across the boat deck, or a snowman erected on the bow--enhance both a feeling of frigid cold and spirited fun. Minute illustrated features inside the ship give readers oodles of things to investigate: food, clothes, tools, all manner of amusing elements. One can't help but imagine being a member of this crew.
Savage creates through text and art a grand adventure perfect for young explorers. The Search for the Giant Arctic Jellyfish is an excellent picture book venture. --Jen Forbus, freelancer
Shelf Talker: A marine adventure takes a scientist and her team into the icy waters of the Arctic to search for a mysterious sea creature.