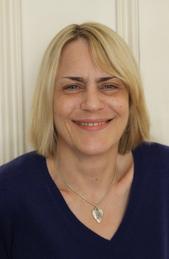 Kate Saunders
Kate Saunders, a prize-winning novelist, journalist and critic "whose many achievements emerged despite a life of suffering and loss," died April 21, the Guardian reported. She was 62. Saunders initially worked as an actor, joining the National Theatre in 1983, an experience that inspired her second novel, Storm in the Citadel (1989), and the third of her detective novels, The Mystery of the Sorrowful Maiden (2021).
By the age of 26, she won a Betty Trask prize with her first novel, The Prodigal Father (1986), which launched a career that produced more than 20 novels for adults and children, ranging from historical romance to detective stories to children's books. A columnist for the Sunday Times, the Daily Telegraph, the Sunday Express, She, and Cosmopolitan, she also judged the 1990 Booker Prize and the 2007 Women's Prize.
Saunders became a regular contributor to radio and TV, but that changed "when she gave birth in 1993 to her only child, Felix, and learned on the same day that she had multiple sclerosis," which was kept secret from all but her immediate family, the Guardian noted. She signed up to write five historical romances, starting with her epic Night Shall Overtake Us (1993), which was a bestseller, "but equally good was one of her wittiest romantic comedies, Bachelor Boys (2004)."
Her children's series, The Belfry Witches, which began with A Spell of Witches (1999), was made into a BBC TV series. Saunders also co-wrote Catholics and Sex (1992) with Peter Stanford, then editor of the Catholic Herald, and they later presented a TV series based on the book.
Increasingly frail, Saunders still produced several children's books, including Beswitched (2010), Magicalamity (2011), and The Whizz Pop Chocolate Shop (2012). She was also a contributor to the 2016 authorized Winnie-the-Pooh sequel, The Best Bear in All the World.
After her 19-year-old son committed suicide, however, the "shock and grief of this brought on the deterioration of Kate's MS, which went from relapsing-remitting to advancing, and could no longer be kept secret. It was now that she wrote her masterpiece, Five Children on the Western Front, published by Faber in 2014, and, as she put it, 'the book of my life,' " the Guardian wrote.
That book won the 2014 Costa children's book award, and was shortlisted for the Guardian and Carnegie prizes for children's literature. Her novel The Land of Neverendings was also shortlisted for the 2019 Carnegie medal. She published a detective series about a Victorian archdeacon's widow, Mrs. Rodd, starting with The Secrets of Wishtide (2016). Her last children's book, A Drop of Golden Sun, will be published by Faber in 2024.
"Kate's friendship, kindness, courage and wit illuminated many lives," Amanda Craig wrote in the Guardian. "Conversations with her would encompass everything from feminism and literary fiction to leftwing politics, always punctuated by robust laughter."