Independent Bookstore Day Spirit Week continued yesterday with #OnWednesdaysWeWearBookstoreShirts. Among the booksellers participating: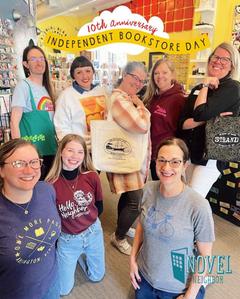 The Novel Neighbor: "We've never met an indie we didn't love."
The Novel Neighbor, St. Louis, Mo.: "We are celebrating our love of fellow Indie Bookstores!... Today, we're sharing love for some other indie bookstores near and far! We've never met an indie we didn't love--here are just a few sweatshirts, T-shirts, and bags we've picked up over our travels! Wherever you are, shopping indie puts money back into your local economy, brings authors to your community, and supports your friendly local booksellers (who know ALL the good books). Wear an indie bookstore shirt and tag us--we'll reshare! What's another indie that YOU love?! Let us know.
Bards Alley Bookshop, Vienna, Va.: "It's THREE DAYS until Indie Bookstore Day, and we're wearing our bookstore shirts this Wednesday for spirit week!"
At Once Upon A Time
Once Upon a Time Bookstore, Montrose, Calif.: "Celebrate all independent bookstores fighting the good fight together! Iz is wearing a Books Are Magic shirt and Jessica is wearing a Brain Lair Books shirt because booksellers love to support other indie bookstores. We hope to see you in YOUR bookstore shirts! Tag us in your photos and join us for the party this Saturday!"
Brain Lair Books, South Bend, Ind.: "It's Independent Bookstore Day Spirit Week...⁠. It's Bookstore Shirt Day!⁠ Post a pic of you with an independent bookstore shirt and you could win a $10 gift card to Brain Lair Books. If you have a Brain Lair Books shirt--you could get an extra $5!⁠"
Theodore's Books, Oyster Bay, N.Y.: "We're positively psyched for this Saturday's Independent Bookstore Day! Our booksellers are ready to talk books, serve wine, and play music!"
Bel Canto Books, Long Beach, Calif.: "On Wednesday, we wear our bookstore tee! Happy @indiebookstoreday Spirit Week! Today we invite you to wear your favorite bookstore's T-shirt to show off your #bookstorelove!.... Happy indie bookstore repping!"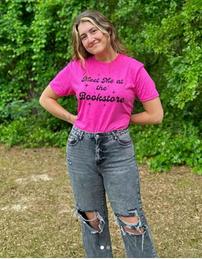 IBD swag at Sweet Home Bookstore
Sweet Home Bookstore, Wetumpka, Ala.: "NEW SHIRT ALERT!! This is a independent Bookstore Day exclusive release--with very limited stock. We have Pink and Green colors of this shirt available. Make sure to stop by Saturday to get one along with lots of other exclusive items!"
Ferguson Books, Bismarck, N.Dak.: "BOOKSTORE SHIRT DAY! Any bookstore shirt will do, but bonus points for it to be Fergusons! Each day leading up to Indie Bookstore Day this coming Saturday, we have a theme!! If you participate and show an employee your apparel, you get a FREE ARC (Advanced Reading Copy)!!! Be the one to read that future bestseller before everyone else!!"
Dragon Tale Books, Menomonie, Wis.: "Wednesdays we wear bookstore shirts. Tomorrow is dress as your favorite book character. Does anyone have a Jane Austen type dress I could borrow?"