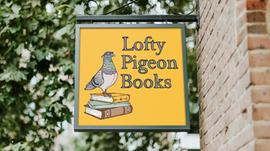 A new all-ages bookstore called Lofty Pigeon Books is opening in Brooklyn, N.Y., this summer, Brownstoner reported. Co-owners and married couple Briana Parker and Davi Marra have signed a lease for a 1,200-square-foot store at 743 Church Ave. in Brooklyn's Kensington neighborhood. They're aiming for a soft opening in August followed by a grand opening block party in September.
Marra and Parker plan to stock around 5,000 books at opening and are currently putting together their initial orders with the help of an online survey asking community members what they'd like to read. Marra noted that the area is diverse, and he and Parker want everyone to feel represented on the shelves. They also plan for a "sizable" children's area, which will include seating and ample space for both playing and reading. And along with books, Lofty Pigeon will sell gift items like cards, stationery and puzzles. They plan on hosting literary events, open mics, storytimes, and book clubs.
"We want everyone to be able to come into the store and see works of literature that excite and interest them and represent them," Marra told Brownstoner.
Both Parker and Marra have experience working at independent bookstores and in fact met each other while working at the Corner Bookstore on New York City's Upper East Side in 2008. Marra started his bookselling career at Borders when he was 17 and most recently was a manager and book buyer for WORD Bookstores. Parker, meanwhile, went from Corner Bookstore to the Metropolitan Museum of Art, where she worked for a decade in the publications department and as a book editor.
While they've dreamed of opening a bookstore of their own for a long time, it was earlier in the Covid-19 pandemic that they decided to take the plunge. Parker recalled feeling she was "ready to double down," and they knew from the beginning they wanted to open a store in Kensington.
"We just knew that it's a very creative area, a place that is very community focused and that really supports local business, values local business, values community spaces, creative artistic pursuits, and we just wanted to be part of that, to tap into that and contribute to it," Parker told Brownstoner.
Marra and Parker will take over the space officially on Monday, May 1, and tomorrow they will launch a Kickstarter campaign to help get the bookstore up and running.