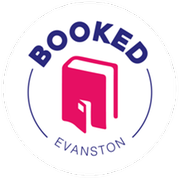 Abby Dan and Betsy Haberl are the new owners of Booked, Evanston, Ill., succeeding previous owner Rachel Round, who welcomed them to the store as booksellers after years as Booked customers. Dan and Haberl are Evanstonians, parents, writers, and avid and enthusiastic readers. Along with the change in leadership, Booked has unveiled a new logo, designed by Richa Cordero.
"It is with bittersweet emotion that I announce my departure from Booked," Round said. "The last several years of owning Booked have been some of the most fun and joyful of my life. It has not been an easy decision, but due to health and medical reasons, I can no longer run Booked in the way that it deserves. However, I am thrilled that Betsy and Abby are the excited, passionate and community-minded new owners. I know they will run the store with all the same joy it has always held and add their own twist as well."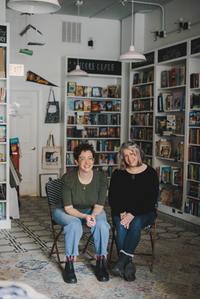 Abby Dan and Betsy Haberl
Both new owners hold degrees in Creative Writing from Northwestern University (Dan a BA, Haberl an MFA), and have diverse backgrounds in programming, marketing, fundraising and more.
"I know I speak for both of us when I say we're honored to lead Booked into its next era," said Haberl. "The store is such a gem in Evanston and on the Main Dempster Mile, and we've already had so much fun revitalizing it in the last year as booksellers and event organizers."
In the months they have worked together at Booked, Dan and Haberl have hosted events with local authors; relaunched a weekly story time with their colleague Jessica Iverson; grown the store's social media presence; and curated the selection of adult titles available in-store. They have also hosted publisher-driven events for Shannon Messenger's Keeper of the Lost Cities series and Dav Pilkey's Dog Man series.
Since it opened in 2018, Booked has focused on children's books, from board books to YA titles, with a small selection of titles for adults. Though Booked will remain, as founder Chelsea Elward called it, "A Bookstore for Youthful Readers," the new owners said increased interest in adult books at the store is undeniable.
Haberl observed: "We want to update Booked's image to better reflect our dedication to readers at any level and age, and Richa Cordero did a fantastic job helping realize our vision in our new design. Adults want to experience the joy of reading at Booked just as much as the kids do! Plus, we have curated a fantastic selection at Booked."
Dan added: "The store will still focus on books for kids ages 0-18, and our staff can help any customer find just the right thing for that birthday or upcoming holiday, but we want Evanston to know that we've got great titles for grown-ups, too, that we love to read and love to talk about."