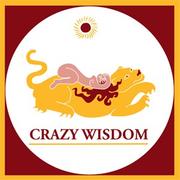 Crazy Wisdom, which closed its physical bookstore more than a year ago, will reopen in a new form later this year at 114 S. Main St. in Ann Arbor, Mich. Owners Bill Zirinsky and Ruth Schekter closed the bookstore in February 2022 to focus on Crazy Wisdom Publications, which publishes the Crazy Wisdom Community Journal and the CW Biweekly Ezine.
In a job posting, Crazy Wisdom noted that it is currently "offering an exciting one-of-a-kind opportunity for a full-time manager to spearhead the re-opening of the brick-and-mortar Crazy Wisdom Bookstore, southeastern Michigan's leading body, mind, and spirit bookstore for almost 40 years. After being on sabbatical since early 2022, Crazy Wisdom Bookstore is ready to reemerge, under its same longtime ownership, in the fall of 2023 or the first part of 2024."
The listing also noted that this incarnation "will focus primarily on the second floor as an event and community building space, and will host a variety of events including but not limited to: meetings, workshops, poetry and storytelling nights, book discussion groups, author events, intuitive and psychic readings, seasonal rituals, witches nights out, Salon nights, music nights, drum circles, meditation gatherings, and other types of events which it has fostered and hosted over its decades."
A smaller, more focused bookshop located on a portion of the first floor will have significantly reduced hours of operation. Zirinsky told the Ann Arbor News that he will have more to say about the bookstore's return in a few months.