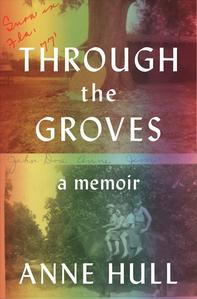 Anne Hull's vivid memoir, Through the Groves, re-creates a 1960s childhood among Florida's citrus trees. A former Washington Post journalist, Hull shares a Pulitzer Prize for uncovering the poor conditions for wounded Afghanistan and Iraq War soldiers at Walter Reed Army Medical Center. She brings the same clear-eyed compassion to her family's story, tracing in loving detail how the nuclear unit broke apart, and she accepted her sexuality.
The Central Florida orange groves where, as a girl, Hull rode along with her father--a fruit buyer for a juice processing company--were magical. "A dirt road took us there" is the memoir's matter-of-fact yet evocative first line. The poetic descriptions appeal to multiple senses: "Slats of raw sunlight bore down through the shade" and "when the orange blossoms opened, it was like God had knocked over a bottle of Ladies of Gardenia." Her father's territory covered "four thousand square miles of rural land and unmarked roads." It was a frontier all theirs to explore--and during a more innocent time, when no one considered the consequences of cigarettes or pesticides.
However, Hull was aware of her parents' unhappiness, especially as her father's alcoholism progressed. After their divorce, her mother took her and her brother to live with her maternal grandmother, "Damie," and then with a new stepfather named Ted. Hull effectively reinhabits her childhood perspective to bring these figures to life. Damie, in particular, is a wonderful character who called everyone "dahling" and shared her granddaughter's love of the Jackson 5. Through the depiction of their Black babysitter, Ceola, Hull also reveals the de facto segregation in the South at that time.
The narrative speeds up through Hull's teen years and ends with her starting a journalism fellowship at Harvard. The time span allows her to track her reconciliation with her father and her sexual identity. Hull had always been a tomboy, but not until her freshman year of college, when she kissed a female colleague from her Christmas-break restaurant job, did she realize she was a lesbian. Hints planted throughout the memoir--a fascination with album covers featuring scantily clad women, an obsession with the scent of the shampoo her fifth-grade teacher, Miss Mallory, used--take on new significance.
Development, including the construction of Disney World, led to the vast orange groves Hull remembers being cut down. Like childhood, they are lost forever, but memory can, fleetingly, bring them to life again. --Rebecca Foster, freelance reviewer, proofreader and blogger at Bookish Beck
Shelf Talker: A fifth-generation Floridian's vivid memoir of growing up among citrus groves brings compassion to a family story of alcoholism and marital breakdown and the author's route to accepting her sexuality.