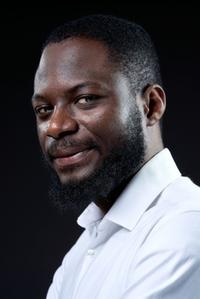 photo: Andrew Kahumbu
Stephen Buoro was born in Nigeria in 1993 and has an M.A. in creative writing from the University of East Anglia, where he received the Booker Prize Foundation Scholarship and the Deborah Rogers Foundation Award. He lives in Norwich, U.K. His debut novel, The Five Sorrowful Mysteries of Andy Africa (Bloomsbury), is a tragicomic novel that provides a lens into contemporary African life, the complicity of the West, and the challenges of coming of age in a turbulent world.
Handsell readers your book in 25 words or less:
My novel is about a smart and funny 15-year-old Nigerian boy who's obsessed with blondes, Afrofuturism, math, poetry, and who his true father is.
On your nightstand now:
Brutes by Dizz Tate. It's a brilliant coming-of-age story about girlhood, set in Florida. The descriptions, especially at the beginning of the novel, are so acute and tender that I feel as though I've lived in Florida before. Tate's sentential astuteness is outstanding--reminds me of J.M. Coetzee--and it was a privilege to meet her in person in March this year. I can't wait to read her next book.
Favorite book when you were a child:
I didn't have a definite favourite. Some of the books I loved include The Swiss Family Robinson by Johann David Wyss, Treasure Island by Robert Louis Stevenson, and The Adventures of Tom Sawyer by Mark Twain. These books made me more inquisitive about the world. The first one, in particular, drew me toward employing a bifurcated approach to observing/understanding phenomena, i.e., through science and the arts, maths and literature, which is what I sought to do in my novel, Andy Africa.
Your top five authors:
Chinua Achebe, Fyodor Dostoyevsky, Vladimir Nabokov, Gabriel García Márquez, and Junot Díaz. What can I say? Apart from the pleasure of reading them, their works are instructive and nourishing.
Book you've faked reading:
Lord of the Flies by William Golding! I tried reading it several times as a teenager but never got beyond 20 pages. It felt so weird reading a book with no women in it, one with a character named Ralph, and another named Piggy. And it seemed to contain too much chitchatting. Thus, the quotation marks were preponderant and felt like winged insects frolicking towards me. Also, as an introverted teenager, the boys felt noisy and crazy to me. Now, as an adult, the concept of the book sounds compelling, and I've since read wonderful commentaries on the book, and I look forward to trying it again.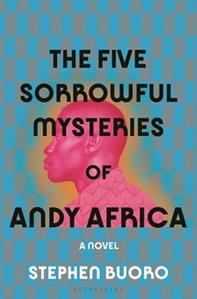 Book you're an evangelist for:
Say You're One of Them by Uwem Akpan. I love this book enormously, and I don't think many readers give it enough credit or recognise its ambition. Although many of the events it describes are brutal, it's an ambitious collection of stories that gives voice to the voiceless, and handles huge philosophical questions with great subtlety. It's a book everyone should read at least once.
Book you've bought for the cover:
I'm not sure I've done this before. But the vintage cover of Disgrace by J.M. Coetzee is harrowing and brilliant and perhaps encouraged me to buy the book. It goes without saying that Coetzee is such a master.
Book you hid from your parents:
A raucous, racy thriller called The Virgin Soldiers by Leslie Thomas. I first read it when I was 14, and it had the wildest sex scenes I'd ever seen in a book. So I hid it beneath a pile of boring books and visited it now and then.
Book that changed your life:
Black Boy by Richard Wright. I greatly loved this book. I read it when I was 13, and it changed the way I saw the world. Suddenly, I became aware of the colour of my skin, and I began to see through the monochromatic narratives of Hollywood and of Western culture. It depressed me, because it seemed to foreshadow the world that I would navigate as an adult: a racialized, unequal, violent world. Also, it bolstered in me the desire to become a writer, just like the narrator.
Favorite line from a book:
"For when does a berry break upon the tongue as sweetly as when one longs to taste it, and when is the taste refracted into so many hues and savors of ripeness and earth, and when do our senses know any thing so utterly as when we lack it?" --from Housekeeping by Marilynne Robinson.
This sentence alone is sufficient evidence for why everyone should read literary texts, for they alone, arguably, can capture the essence of our human struggle and supplement the psychosomatic nourishment we need.
Five books you'll never part with:
Things Fall Apart by Chinua Achebe (the quintessential African classic; arguably the book that flung open the doors for African writers), The Brothers Karamazov by Fyodor Dostoyevsky (a powerful and instructive intertextual philosophical text), One Hundred Years of Solitude by Gabriel García Márquez (always a pleasure to read; inimitable; a book that redrew the "rules"), The Palm-Wine Drinkard by Amos Tutuola (a bewitching, polyphonic tale), and the Bible (the book that's defined my life; an astonishing literary text).
Book you most want to read again for the first time:
The Promise by Damon Galgut. I read it early last year and I can't wait to revisit it. It's a terrific novel that does innovative things with point of view, subjectivity, and interiority. I strongly relate to its themes of religion, class, race, nationhood--for they characterise my life and constitute the central themes of my debut novel, Andy Africa. I'm sure these themes will resurface in my subsequent writing.
Book you can't wait to read:
I've heard many wonderful things about Lesley Nneka Arimah's short story collection, What It Means When a Man Falls from the Sky, and I can't wait to finally read it. I'm intrigued by its ambition and scope and its generic range, spanning realism, magical realism, and speculative fiction.