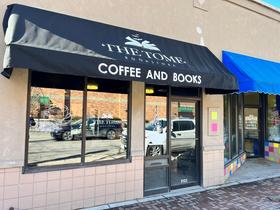 The Tome Bookstore in Cincinnati, Ohio, will close its bricks-and-mortar store on July 1, City Beat reported. The store opened in April 2022.
Though the store is shutting down its operations in the city's Mount Washington neighborhood, owners Jeremy Spencer (an author who writes under the pen name J.M. Clark) and his wife, Autumn Spencer, are already working on relaunching Tome in a "newly imagined way" and in a new location.
They are evaluating prospective locations and have started a GoFundMe campaign to help with the bookstore's relaunch. They have also alluded to an exciting twist for the new shop, with details to be announced soon. "Picture a blend of whimsy, discovery, and literary delight," they wrote. "It will be a unique experience that will transport you to a world of imagination and wonder, all within the walls of our beloved bookstore."
Writing on Facebook, the Spencers noted that all of the store's scheduled events will go on as planned before the closure, and they thanked customers and community members for "embracing us and being part of our journey. Your enthusiasm and love for books have been the driving force behind our passion. We are immensely grateful for the connections we've made, the conversations we've had, and the memories we've shared within these walls."