Publishers Weekly announced the winners of the Bookstore of the Year and Rep of the Year awards yesterday as part of the U.S. Book Show.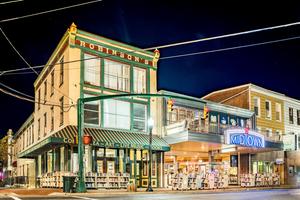 Midtown Scholar Bookstore, Harrisburg, Pa., has won the Bookstore of the Year Award. Celebrating its 20th anniversary this year, Midtown Scholar has grown from a 750 square feet walkup to a 15,000 square feet location with 50 employees. Owners and founders Catherine Lawrence and Eric Papenfuse celebrated with staff, who cheered them on.
Just two indications of how connected with the community Midtown Scholar is: in 2009, Lawrence and Papenfuse founded the Harrisburg Book Festival, which draws 10,000 attendees each year, and Papenfuse was mayor of Harrisburg from 2014 to 2022.
Among others, Lawrence thanked the New Atlantic Independent Booksellers Association for "helping us grow and transition from being a small, walk-up used bookstore and online e-commerce site to a massive, new bookstore and used bookstore." She also gave a shout-out to staff, which consists of "folks who have been with us for seven days, folks who have been working for us for seven years, and a couple folks who have worked for us for 20 years."
Papenhouse noted that the store's 20-year journey began with "a pile of books in our dining room" and resulted in the store's current space, a renovated movie theater.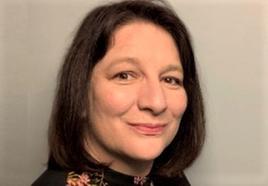 Emily Bates
Emily Bates, senior manager of in-house sales of adult titles at Penguin Random House, has won the Rep of the Year Award. She has been at PRH since 2009 and earlier worked at Waldenbooks and Borders.
Bates thanked many people, among them independent booksellers, saying, "You all do an amazing job supporting authors, finding just the right books for your customers, being the center of your community, and a safe space for people just looking for understanding. You're so key to your community."