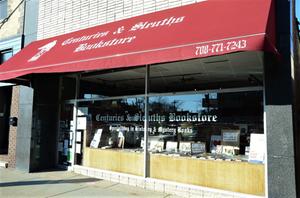 Centuries & Sleuths Bookstore in Forest Park, Ill., has been put up for sale. The Chicago Tribune reported that after "more than 30 years of reading books, loving books, selling books, and hosting authors and readers... Augie Aleksy is preparing to call it quits."
"It's time," he said. "I want this store to go to someone who understands the importance of traditions and loves books and writers." Aleksy and his wife, Tracy, a retired nurse, "are now in their 70s and would like to enjoy the rest of their lives unburdened by the considerable pressures of running an independent bookstore. They will be exploring offers over the next few weeks and are hopeful that they will be able to retire soon," the Tribune noted.
"People think all I do is sit around and read," he said. "I am so busy with business that I am usually reading three books at a time, juggling them and trying to find a quiet booth in [nearby] Louie's Diner when I am able to escape for lunch."
He added that the decision was not prompted by any pandemic-related business troubles: "It was surprising, but 2021 was one of the best years we've ever had. A lot of customers bought gift certificates for family and friends. A lot of people were cooped up and doing more reading. There was a real hunger for reading."
Store events have been scheduled into the summer and beyond. "Like the best of independent bookstores, Centuries & Sleuths is really something of a community center, a place for lively gatherings, hosted by the Aleksys, as affable a pair as you are likely ever to meet. Augie's laugh is an unforgettably joyful noise," the Tribune wrote.
"Here we have conversations, not lectures," Aleksy said. "I know so many authors who are decent people, always eager to meet their readers and to support one another."
For more information, "call the store [708-771-7243] and talk to Augie. Better yet, drop in. Have a look, buy a book," the Tribune advised.