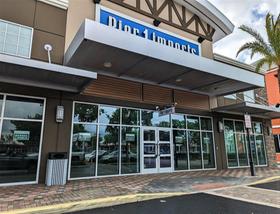 B&N's future location in Delray Beach, Fla.
Barnes & Noble will open a new location in Delray Beach, Fla., this fall. The company is eyeing a November opening for the bookstore, which will span about 10,000 square feet and feature B&N's new store design, with new furniture and a new format. It will not have a cafe.
Janine Flanigan, B&N's director of store planning, said 10,000 square feet is a "newer size" for the company, and has been trialed in a few stores in the past year. She noted that it affords B&N "many more opportunities" to open stores in places where larger retail spaces are unavailable. Flanigan said this location--in the Delray Place shopping center on Federal Highway--was a "recent find for us," and B&N's real estate team has been working on securing the site for "just a short period of time."