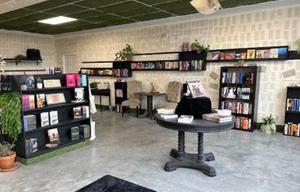 Following an open call for prospective bookstore owners, Melody Mack is the new owner of DAP Books in Twin Falls, Idaho, the Magic Valley Times-News reported.
Founded in fall 2022 by Sequoia Schmidt, DAP Books was created to be the retail storefront for Schmidt's publishing company, Di Angelo Publications. After several months of trying to run both the bookstore and the publishing operation, Schmidt decided to step back from the bookstore. She did not want to see it close, however, so she posted on a local moms and wives group on Facebook inviting anyone interested in owning a bookstore to submit an application.
Mack, who has had a lifelong dream of opening a bookstore, was "doing online schooling for my bachelor's" and "homeschooling four kids" at the time. She thought, "Yes, I'll take a bookstore!"
Schmidt told the Times-News that she was looking for someone who had "been a part of this community for many, many years, and who's going to be in this community for many, many years." She posted in a mom group, she explained, because she felt moms would already be adept at handling unexpected challenges.
"Generally what I've found with my friends who are moms is they can handle hard things," Schmidt elaborated. "They have challenges thrown at them all the time, and they find a way to make it work, and they keep that little human alive, and that's kind of like keeping a business alive."
Schmidt will continue to own the building at 250 Main Ave. N., which will still house both the distribution center for Di Angelo Publishing as well as the bookstore. Mack will lease the bookstore's space from Schmidt, and the inventory will consist of titles released by Di Angelo Publications and whatever Mack decides to stock. So far, Mack has brought in mainly used books to supplement the inventory.
Mack intends to expand the bookstore's events offerings and has ideas for art classes, workshops and other programs. In particular, she's looking to offer things that would appeal to other parents who are homeschooling their children.
"I like being able to get lost in a story. I have various styles that I like... but I'm not against any other genre," Mack remarked. "I have found some of the best books I've ever read by walking through a store and randomly picking one that I would have never picked before."