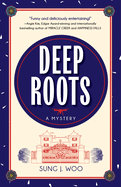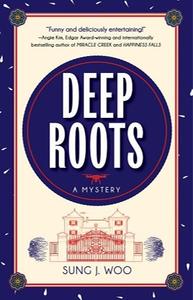 Sung J. Woo (Love, Love) is one of those agile writers able seamlessly to insert detailed backstories mid-series: reading his second Siobhan O'Brien mystery, Deep Roots, without benefit of the inaugural Skin Deep is no less absorbing.
People often do a double-take when meeting Siobhan in person: "I was adopted by an Irish father and a Norwegian mother," she's forced to explain about her ethnic Korean heritage, which strangers have decided doesn't match her name. Now 40, she finally seems at peace with who she is. She's settled into running the detective agency she inherited when her boss died suddenly. She's hired college student Beaker as her intern--and just in time, because she needs someone to check her e-mail while her new assignment takes her to a private island in the Pacific Northwest.
Billionaire Philip Ahn has summoned her to Woodford, his expansive family mansion, to figure out if his youngest child, Duke, is truly his son. Octogenarian Ahn is a genius, specializing in artificial intelligence--and, of course, money. But even his most advanced devices--personal drones, biometric apps--can't (or won't?) prove (or disprove) Duke is an imposter.
Siobhan arrives--after 11 hours of "last class" travel, meant to convey that Ahn is "not out of touch with the value of a dollar"--to find a surreal level of luxury. "Employees in service," never servants, ensure her every comfort, even dressing her for family meals, which entails exquisite, fit-to-the-skin clothing laid out on her most-comfortable-ever bed. She'll need to be suitably costumed to meet the entire Ahn clan: two ex-wives, the current wife, their assorted progeny. And then figure out how to escape their gilded prison.
Woo's acknowledgements make nods to Downtown Abbey (yes, there's a Lady Mary!) and Zhang Yimou's Raise the Red Lantern: "If you are familiar with both works, you can no doubt figure the influences." Woo cleverly inserts plenty of comedic asides and snickering revelations that involve surprisingly multiplying actors--literally. Woo's patriarch, interestingly, shares the same name with Hollywood's first Korean American actor. The Ahn players here certainly could have used some of his training.
Identity--and what makes a family--remain at the heart of Woo's series: is Duke Duke?; the Ahns' overtly wannabe Eurocentric royal posturing (despite their ancestry traced to a 16th-century Korean admiral); Siobhan herself with reminders of her outwardly incongruous face and name; even Beaker with his insights on "code switching." Clever, biting, and page-turning, Woo's PI series surely deserves future developments. --Terry Hong, BookDragon
Shelf Talker: Sung J. Woo returns with another rollicking mystery, set on a posh private island where the dysfunctional family's only son may not be who he seems.