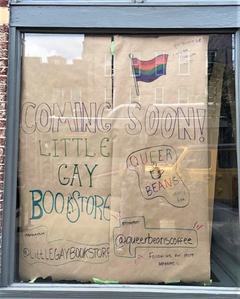 Coming soon: Little Gay Bookshop
Little Gay Bookstore and Queer Beans coffee shop will open this fall at 1129 N. High St., in the Short North district of Columbus, Ohio. The business "came about as many entrepreneurial endeavors do," Columbus Underground reported. Owners Reese Steiner and Lauren Branch, partners in life as well as business, "couldn't find the kind of bookstore they wanted, so they decided to build it themselves."
Steiner said the bookstore will also incorporate a coffee shop and create a safe space for people to exist: "We really wanted to foster a space that is going to have every single kind of book, any identity that someone might have, we want to have a book that represents them." With a focus on queer authors and queer stories, they also want to support local authors and writers who might have smaller followings.
The bookstore will be run as a nonprofit because they want to give back to the community, Branch noted. Nonprofit status will allow them to donate to other LGBTQ charities that they value.
Queer Beans, the for-profit coffee shop side of the business, will help support the nonprofit bookstore. Steiner said they want to be able to pay their employees a livable wage and the for-profit will help give the nonprofit a leg up. Branch added that sampling is underway to determine a roaster, and they are looking for a supplier that also values doing good in their community. The menu will be straightforward at first, with coffee and espresso drinks, and will expand over time.
As they gear up for a fall opening, Steiner said, they "like the support for small businesses in the area, the neighborhood events, walkability, and Short North's reputation as the 'gay-borhood.' But there's also a lot of bars, and they want the Little Gay Bookstore to be a more relaxed, sober alternative," Columbus Underground wrote. A GoFundMe campaign is underway to help get the store off the ground.