Shelf Awareness for Monday, June 18, 2012

News
Dimple Records to Open Bookstore
Dimple Records, which has seven music, DVD and gaming stores, this summer is opening in Sacramento, Calif., "the first stand-alone bookstore in the local chain's 38-year history," the Modesto Bee reported.

The store will sell some 60,000 new and used books (at an 15/85 ratio) and is being organized by two former Borders managers, Alex Telander and Amber Amaral, who will stay on at the store. They want to hold events, including children's story times and author signings. "I like that it has a big bookstore feel, but it has the chance to be very community oriented," Amaral told the Bee.

The pair helped open a book section with 15,000 titles at Dimple's Citrus Heights store. Other Dimple stores have carried graphic novels and novelty titles for several years and had one table displaying books.

Dimple operations manager Kyle Newton said, "Our biggest thing is going to be how cheap we are. We are going to match or be lower than Amazon." New books will be discounted 25%.




Inklings Update: Inkling of More Stores
And in the case of another non-book company opening a bookstore and relying on Borders veterans--also in Northern California--the San Jose Mercury-News has an update on Inklings Books and Things, the bookstore in Capitola, Calif., near Santa Cruz, that opened November 1 and is staffed by seven former Borders Express employees (Shelf Awareness, October 13, 2011).

Inklings' owners are Mark Phillips and John Horner, who own Thinker Toys ("Great Toys for Thinking Kids of All Ages"), which has stores in Monterey, Carmel and Morgan Hill. Speaking of Inklings' staff, Phillips told the paper: "They've done a great job. And I think there will always be a need for bookstores. We may expand to other spots on the peninsula if we get the model down."

Dorothy Monroe, who managed the Borders Express and now manages Inklings, said, "We have a lot of control that we didn't have before. It's exciting, and a dream come true for most of us. And the alternative would have been unthinkable."

Inklings Books and Things is located at the Capitola Mall, 1855 41st Ave., Capitola, Calif. 95010; 831-475-3700; inklingsbooksandthings.com.




Press Conferences: Amazon-State Deal; Microsoft Tablet?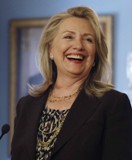 Secretary of State Hillary Clinton and Amazon.com founder and CEO Jeff Bezos are holding
a press conference on Wednesday in Washington, D.C., to announce the launch of the Kindle Mobile Learning Initiative
, paidcontent.org reported.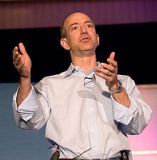 According to the State Department, the "public-private partnership with Amazon and the U.S. government" is intended to create "a global e-reader program that introduces aspects of U.S. society and culture directly to young people, students, and international audiences in new ways and expands English language learning opportunities worldwide."

Under a no-bid contract that is still in a "pilot program" phase, the State Department will pay $2.29 million to Amazon in the first year of the program for 2,500 Kindles, content, support and more. Over five years, the full cost of the program could be $16.5 million for 7,000 Kindles a year.

No word on whether press conference guests will include Attorney General Eric Holder, whose Justice Department's suit this spring against Apple and five publishers aids Amazon, or Jamie S. Gorelick, the Washington power lawyer and Holder predecessor as deputy attorney general in the Clinton Administration who joined the Amazon board in February.
---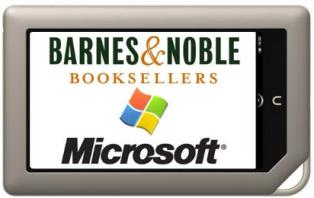 In other press conference news, Microsoft is making a "major announcement" today in Los Angeles. Seeking Alpha speculates the mystery announcement may have to do with the introduction of the Microsoft's first tablet that in some way would involve its new partner, Barnes & Noble, and its Nook Tablet.


AAP Sales for March: Children's Keeps Growing
In March, total net book sales fell 7%, to $624.1 million, representing sales of 1,189 publishers and distributed clients as reported to the Association of American Publishers. For the year to date, net book sales have risen 6.2%, to $2.3 billion.
Children's/YA e-books kept up its strong rate of growth, rising 173.9% to $19.3 million, mirroring its February gain of 177.8%. Adult e-books rose 33.2%, to $86.2 million, an improvement over February's gain of 9.9%.
| | | |
| --- | --- | --- |
| Category | Sales | % Change |
| Children's/YA e-books | $19.3 million | 173.9% |
| Children's/YA hardcovers | $67.2 million | 59.3% |
| Downloaded audio | $8.7 million | 49.5% |
| Religious e-books | $9.3 million | 48.7% |
| Adult e-books | $86.2 million | 33.2% |
| Children's/YA paperbacks | $46.7 million | 21.5% |
| | | |
| Audiobooks | $6.8 million | -7.6% |
| Univ. press hardcovers | $5.4 | -9.1% |
| Professional publishing | $41.7 million | -9.5% |
| Univ. press e-books | $1 million | -11.3% |
| Children's board books | $3.4 million | -13.6% |
| Religious hardcovers | $24.2 million | -15% |
| Adult hardcovers | $93.3 million | -15.3% |
| Univ. press paperbacks | $2.8 million | -25% |
| Adult paperbacks | $99.3 million | -27% |
| Adult mass market | $40.2 million | -27.8% |
| Religious paperbacks | $15.9 million | -46.2% |


Sherer New Director of UNC Press; Changes at Perseus
Effective July 30, John Sherer will become the director of the University of North Carolina Press, succeeding Kate Douglas Torrey, who is retiring June 30 after 23 years with UNC Press. Sherer, currently v-p and publisher of Basic Books, was a 1988 graduate of UNC-Chapel Hill, and his publishing career began at UNC Press as assistant sales manager from 1989 to 1991. Sherer also worked for the Brookings Institution Press and Henry Holt.
---
In the wake of Sherer's impending departure from Basic Books, the following changes are being made at Perseus, effective immediately:
PublicAffairs publisher Susan Weinberg has been promoted to the new position of group publisher, Basic Books, Nation Books and PublicAffairs. Before joining the company in 2005, she was at HarperCollins for 12 years.
Lara Heimert, editorial and publishing director of Basic Books, has been promoted to publisher of Basic Books. She joined Basic as executive editor in 2005 after seven years at Yale University Press.
Clive Priddle, editorial director of PublicAffairs, has been promoted to publisher of PublicAffairs. He joined PublicAffairs as executive editor in 2003 after 10 years at Fourth Estate/HarperCollins in the U.S. and U.K.


Notes
Image of the Day: Angelic Event at Queen Anne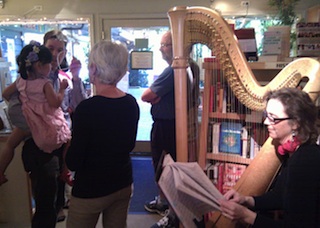 The weekend before last, Queen Anne Books, Seattle, Wash., hosted Martha Brockenbrough, author of the YA novel Devine Intervention (Arthur A. Levine Books), the store's first event since Katharine Hershey became the new owner. In an unusual move, Brockenbraugh brought a harpist, Leslie McMichael, to greet guests with classic rock songs, including "Stairway to Heaven." Here McMichael with her harp, as former Queen Anne Books owner Cindy Mitchell, who still works at the store, gives a halo to a guest.


Jeopardy: Bookseller Bows Out but Does Not Bow Down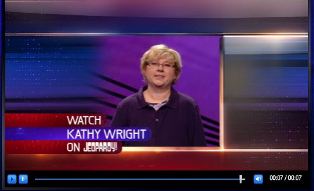 Last Thursday, after back-to-back winning nights--for a grand total of $59,198--on Jeopardy, Kathy Wright of the University Bookstore, Seattle, Wash., lost. Incidentally, one of her choices was in the category "websites from A to Z." For $200, the question was "It started as an online bookstore run from Jeff Bezos' garage."
Wright noted that her correct answer, "Amazon.com," was "muttered through clenched teeth, grudgingly." She added, in a reference to longtime Jeopardy winner Ken Jennings's comment after losing to IBM's Watson last year, "I want to let people know that what I meant to add, but didn't, was 'I, for one, do NOT welcome our new computer overlords.' "




Cool Idea of the (Father's) Day: Darth as Dad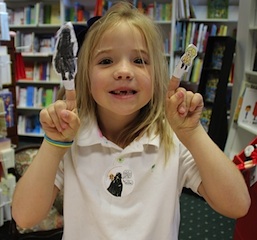 In honor of Father's Day and Darth Vader and Son by Jeffrey Brown (Chronicle), McLean & Eakin, Petoskey, Mich., held a "Luke, I am your Father's Day Party" yesterday. The store served beer for dads and juice boxes for kids, one of whom reveled in her Darth Vader and Luke Skywalker finger puppets.




Bibliophile's B&B: The Sanctuary Bookshop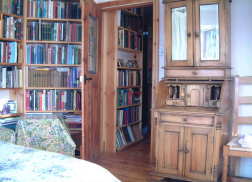 Want to spend the night in a British bookshop? The Sanctuary Bookshop in central Lyme Regis (the "Pearl of Dorset") features "ten rooms of books on four floors... a reading room with comfortable armchairs, a cozy fire, a floor of books mostly £1 or less, and, if desired, some overnight accommodation for book lovers." It is located in the region where adaptations of John Fowles's The French Lieutenant's Woman and Austen's Persuasion were filmed.



Book Trailer of the Day: Can't Buy Me Love
Can't Buy Me Love by Molly O'Keefe (Bantam).


Media and Movies
Media Heat: Books By and About Senator Marco Rubio
This morning on the Today Show: Dr. Harvey Karp, author of The Happiest Baby Guide to Great Sleep: Simple Solutions for Kids from Birth to 5 Years (Morrow, $25.99, 9780062113313).

Also on the Today Show: David Maraniss, author of Barack Obama: The Story (Simon & Schuster, $32.50, 9781439160404). He will also appear tonight on CNN's Piers Morgan and tomorrow morning on MSNBC's Morning Joe.

---

This morning on CBS This Morning: Don Winslow, author of The Kings of Cool: A Prequel to Savages (Simon & Schuster, $25, 9781451665321).

---

Today on the View: Jimmy Fallon, author of Thank You Notes 2 (Grand Central, $13.99, 9780892967360).
---
Today on Live with Kelly: Michelle Obama, author of American Grown: The Story of the White House Kitchen Garden and Gardens Across America (Crown, $30, 9780307956026).

---

Today on Sirius XM Radio's Bob Edwards Show: Charlie Schroeder, author of Man of War: My Adventures in the World of Historical Reenactment (Hudson Street Press, $25.95, 9781594630910).

---

Today on Tavis Smiley: Joseph Stiglitz, author of The Price of Inequality: How Today's Divided Society Endangers Our Future (Norton, $27.95, 9780393088694).

---

Today on Fox's Hannity: Senator Marco Rubio, author of An American Son: A Memoir (Sentinel, $26.95, 9781595230942). He is also on the Daily Show tomorrow night.

---

Today on MSNBC's Andrea Mitchell Reports: Jim Mann, author of The Obamians: The Struggle Inside the White House to Redefine American Power (Viking, $26.95, 9780670023769).

---

Today on Fox's On the Record: Manuel Roig-Franzia, author of The Rise of Marco Rubio (Simon & Schuster, $25, 9781451675450).

---
Tonight on the Daily Show: Parmy Olson, author of We Are Anonymous: Inside the Hacker World of LulzSec, Anonymous, and the Global Cyber Insurgency (Little, Brown, $26.99, 9780316213547).

---

Tonight on the Colbert Report: Paul Krugman, author of End This Depression Now! (Norton, $24.95, 9780393088779).

---

Tonight on Late Night with Jimmy Fallon: Joan Rivers, author of I Hate Everyone…Starting With Me (Berkley, $25.95, 9780425248300).

---

Tomorrow morning on MSNBC's Morning Joe: Manuel Roig-Franzia, author of The Rise of Marco Rubio (Simon & Schuster, $25, 9781451675450). He will also appear on MSNBC's Last Word with Lawrence O'Donnell.

---

Tomorrow on NPR's Diane Rehm Show: Frances Osborne, author of Park Lane (Vintage, $15.95, 9780345803283).

---

Tomorrow on CBS's the Talk: Dan Bucatinsky, author of Does This Baby Make Me Look Straight?: Confessions of a Gay Dad (Touchstone, $14.99, 9781451660739).

---

Tomorrow on MSNBC's Last Word with Lawrence O'Donnell: Bruce Kluger, co-author of Dog on the Roof!: On the Road with Mitt and the Mutt (Touchstone, $12.99, 9781451698886).




Books & Authors
Awards: Amazon Breakthrough Novel; Midwest Finalists
The winners of the Amazon Breakthrough Novel Award, sponsored by Amazon, Penguin and CreateSpace, are:

General fiction: Alan Averill for The Beautiful Land
YA fiction: Regina Sirois for On Little Wings

The winners' novels will be published by Penguin's Berkley Books and Viking Books for Young Readers and they each receive a $15,000 advance.

Averill is a former "video game script doctor" who wrote the first draft of The Beautiful Land for National Novel Writing Month. The story is about "two people in love from the moment they met but destined to be apart forever. Thanks to a time machine and a mysterious invention buried deep in the Australian Outback, they now have one more chance to get it right."

Sirois minored in creative writing but didn't write a novel until she became the mother of two girls. In On Little Wings, "16-year-old Jennifer's discovery of an aunt she never knew existed reunites her family and provokes love and forgiveness."

---
Finalists for this year's Midwest Booksellers Choice Awards, sponsored by the Midwest Independent Booksellers Association and honoring books dealing with the Midwest or by authors in the Midwest, have been selected. Midwest booksellers will now vote for their favorites, and winners will be celebrated at the Heartland Fall Forum, October 3-5, in Minneapolis, Minn.


Gary Ross in a New Role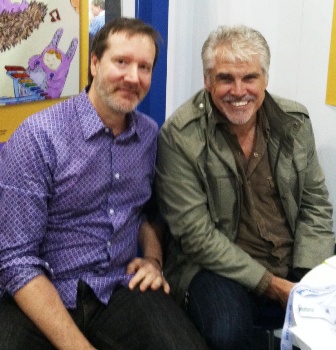 Film director Gary Ross (The Tale of Despereaux; The Hunger Games) has cast himself in a new role: author of the children's book Bartholomew Biddle and the Very Big Wind, illustrated by Matthew Myers (Candlewick, November). Ross and Myers met for the first time at BookExpo, and we got a chance to talk about their process and inspiration.
Ross first started this project as a favor to fellow director David Koepp, who needed a few lines for a bedtime story to be used in a scene he was shooting for The Trigger Effect. There was no budget to pay Ross for his authorial efforts, so Ross said, "I'll do it if the text can rhyme, and I retain the rights." After the film was released, Ross several people asked where they could purchase the book, and so he thought it was high time to get serious and put pen to paper.
The story opens when a big wind blows by Bartholomew Biddle's window. He picks up a bedsheet and sets sail, bound for pirates and past a bleak land of cookie-cutter workers and schoolboys. The narrative unspools in a Seussian rhyme scheme, visually accompanied by Matthew Myers's (Clink; Tyrannosaurus Dad) glorious oil paintings. Ross said he wrote 60% of the text over the course of a year. Sometimes he'd write two to three pages at a time, and at other points the flow went more slowly, to which Myers responded, "Sounds like painting." Ross said that, in addition to Seuss, he also admired the work of Caleb Brown and Chris Raschka's Charlie Parker Played Be Bop.
Ross said Candlewick publisher Karen Lotz had suggested three illustrators to him. Myers's work on Tyrannosaurus Dad convinced Ross that Myers was the artist for the project: "There was a freedom in it," Ross said. "It's painterly, loose, and emotionally packs a punch." "Thanks!" Myers responded. "That's like saying I was a comic actor who could play a serious role."
Author and artist continued their film analogies as they looked together at some key spreads from the book. Ross singled out Bartholomew's memory of drawing with his father, rendered as an aerial view by Myers. "That's an interesting place to put the camera," Ross told Myers. "It's as if we're eavesdropping on an intimate moment." Myers responded, "I'm like a director, too. It's as if Bart is watching his own memory." --Jennifer M. Brown


Book Review
Review: Say Nice Things About Detroit
Say Nice Things About Detroit by Scott Lasser (W.W. Norton, $25.95 hardcover, 9780393082999, July 2, 2012)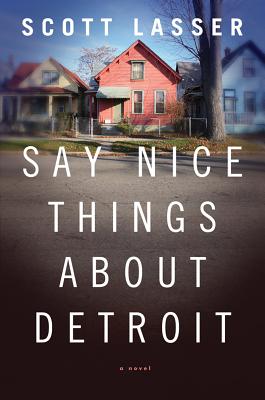 Scott Lasser's Say Nice Things About Detroit is a harsh, but also tender, homage to his native city that tackles the city's racial tensions head on. It has a dramatic opening--the double murder of a retired black FBI agent and a beautiful single white woman in the front seat of his tinted window Mercedes. This is not a typical urban murder about sex and drugs, though: Dirk Burton and Natalie Brooks were brother and sister, sharing the same German immigrant mother who left Dirk and his African-American father, then married an Englishman who fathered Natalie. Her children grew up in very different, racially segregated neighborhoods with very different opportunities and expectations.
Detroit is a place where they don't ask where you're from; if you're there, you're from there--nobody moves to Detroit any more, unless they're moving back, like Natalie's ex-boyfriend David, a divorced lawyer in Denver who comes home to help his father deal with his mother's dementia. Natalie's younger sister Carolyn, unhappily married in Los Angeles, returns for her sister's funeral. David reconnects with Carolyn and they find their troubled lives rejuvenated in a passionate love affair. She has a recalcitrant teenage son; David's equally distant son was killed in an auto accident. Both regret parental failings, but when she becomes pregnant with David's child, they decide to move back to Detroit to raise their child together. Although she cautiously suggests "it's like moving back to Hiroshima," he answers, "But people live there now, I'm pretty sure."
They feel the pull of Detroit's refreshingly dogged determination, "with its lesser stores of social pressure and conspicuous consumption; with its unsettled weather; with its lowered expectations of how well things might turn out.... Here you learned you had to work hard." Things are not so simple, however; there's the double murder to resolve, failing parents to care for and even more complicated inter-racial family dynamics that threaten to jeopardize their romance.
Lasser (Battle Creek) is no Johnny-come-lately Detroit promoter; he knows which side of 8 Mile Road matters, and his intimate understanding of the city makes for a captivating novel rich with details of the local vernacular, weather, food, music, crime and, of course, cars. While the double murder and diverse characters drive the narrative, the city itself plays a central role. Detroit is not just the setting for Lasser's story--it's a place with a beating heart (weak pulse notwithstanding) and enough guts to have a future. --Bruce Jacobs
Shelf Talker: A Detroit native balances a complicated murder mystery with a character-rich story of personal renewal in a desolate city striving for its own rebirth.